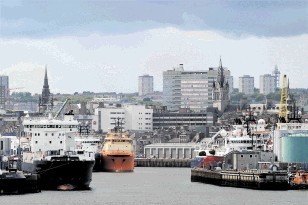 Aberdeen Harbour Board (AHB) chief executive Colin Parker has stressed the importance of further investment in port facilities.
He was speaking last night in the city's maritime museum, at the launch of AHB's 2011 annual review.
The harbour had record growth in traffic last year. Overall vessel tonnage increased by 7% to 25.9million gross tonnes. This led to an increase in turnover of 6% to £24.1million and retained profits of £2.1million in 2011, against £1.1million in 2010. With upwards of £15.5million invested in projects in 2011, including the first phase of the Torry Quay redevelopment and the creation of stronger and deeper quays at Commercial Quay East, the port was able to handle larger vessels and more diverse cargoes.
AHB has planned a further £20million for continued development works throughout 2012. This will include work on Torry Quay phase two, which will comprise the infilling of the River Dee Dock and the construction of additional deepwater berthing.
Mr Parker said: "The programme of activity planned for 2012 is ambitious, but will mean that we are well equipped to meet the needs of our customers and play our part in attracting new business to Aberdeen."
Activity at the port generates more than £420million to the region's economy each year and helps to sustain about 11,000 full-time equivalent jobs.