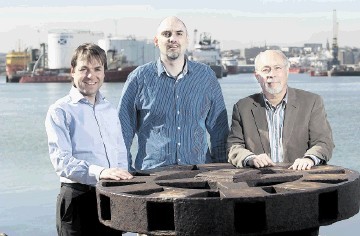 Recently formed Aberdeen energy service business ROVOP is planning a big increase in its workforce this year after a significant investment in equipment.
The specialist provider and operator of remotely operated vehicles employs 14 people: six staff plus eight contractors.
It anticipates this more than doubling to 37 staff and contractors over the next three months.
ROVOP also said it had spent more than £750,000 on one of the most powerful subsea vehicles of its kind. The Saab Seaeye Cougar XT ROV is said to be capable of not only operating in hazardous locations and environments, but features cutting-edge subsea tools and sensing technology such as the latest 3-D sonar and a laser-measurement camera.
Mark Vorenkamp, chairman of Aberdeen-based ROVOP, said: "The Cougar XT is a tremendous asset for ROVOP and significantly underpins our capabilities. We see it as particularly valuable for inspection, repair and maintenance, survey, drill support and windfarm construction."
ROVOP, formed last year, has already worked on diverse projects with all sizes of ROVs. Mr Vorenkamp said: "The fast-paced growth of ROVOP has exceeded our expectations with demand for our services continuing to increase."
ROVOP was set up by Mr Vorenkamp with managing director Steven Gray and technical director Scott Freeland.
Mr Vorenkamp has previously held roles including chief executive of DOF Subsea and managing director at both Fugro and Brown & Root Survey. He was also co-founder of Century Subsea which he went on to sell to DOF Subsea.
Mr Gray has previous experience in the energy industry as a private-equity investor, banker and a lawyer with LDC and Bank of Scotland.
Mr Freeland boasts more than 12 years offshore as an ROV pilot followed by nine years in operational management of ROVs as a project manager, base engineer and personnel manager. He was previously with Sonsub, Fugro and Canyon.