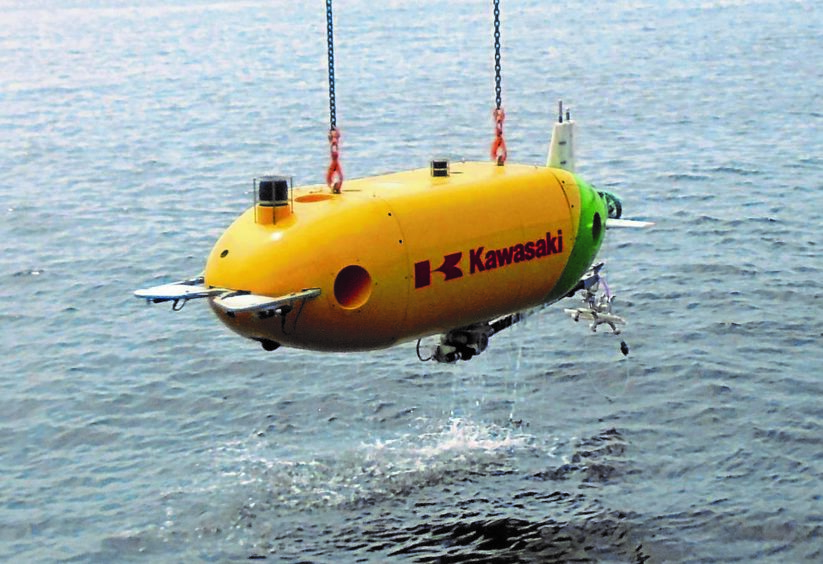 An innovative autonomous underwater vehicle being developed by Kawasaki Heavy Industries appears to have come through its 2020 trials with flying colours.
Following its first pipeline tracking exercise in October last year, the second generation SPICE (Submarine Pipeline Inspection with Close Eyes) machine has undergone three further milestone trials this year, all based in Japanese waters.
·        In January a docking trial was run at Numazu, using a docking station unit built for the purpose and which, among other functions, was equipped to replicate underwater charging of the vehicle's battery pack.
·        In March a second tracking test was run using a 500m pipeline mock-up fitted with obstacles and fabricated for the purpose. This work was conducted off Okinawa.
·        In June comprehensive verification tests were carried out back at Awaji, where last year's trial was run.
·        The robotics arm developed for SPICE and which roughly resembles a stinger was extensively proven on the pipeline rigs at various tracking speeds, including working with movie cameras and 3D imaging systems. Other NDT technologies specifically for SPICE deployment are currently under development.
Speaking at Subsea UK's web-based Underwater Robotics conference, Aberdeen-based Minehiko Mukaida, managing director of Kawasaki Subsea (UK) reported that SPICE successfully logged more than 50 hours of dive time, cruising 16km of which 14km was tracking using the pipeline mock-up.
A series of auto-tracking and pipeline detection trials based on imaging sonar were also notched up. This included simulated partial burial by silt.
This year's trials were, as earlier, operated under the umbrella of the US's long-running DeepStar program, the mission of which is to catalyse development of technologies required to support deepwater exploration and production.
The trials of, Kawasaki's first second generation AUV began late 2018 and further development work and trials are planned for next year.
Recommended for you
X

BP celebrates Greater Plutonio milestone