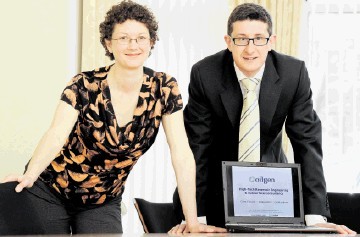 North-east husband and wife Laurent Schirrer and Isabelle Vervoort are eyeing more work in the North Sea and overseas after pooling their oil and gas expertise in a business venture.
Their fledgling reservoir-engineering consultancy, Oilgen, has already helped Taqa Bratani to find new ways of improving oil recovery on the UK continental shelf.
It has also supported a major project in west Africa, involving hundreds of millions of barrels of oil, for Paris-based explorer Maurel et Prom.
Oilgen specialises in hi-tech reservoir modelling, which it uses to forecast and improve oil and gas production, identify new well locations and provide a better understanding of reserves and drilling opportunities.
It also supplies manpower for individual projects and provides advice to help with acquisitions, asset evaluations and reserve estimates.
Mr Schirrer said: "Our hi-tech subsurface management allows companies to get the most from each drilling project and reservoir opportunity.
"We are already looking ahead to growth in the coming years to accommodate even more clients and further expand our team."
The firm is now working on its second project for Maurel et Prom and also has two large European contracts, each worth more than £100,000, on its books for the year ahead.
It operates out of offices in Queen's Road, Aberdeen, where Mr Schirrer and his wife lead a small team of external consultants on reservoir-engineering projects.
Mr Schirrer was previously a subsurface project manager at Taqa Bratani. Ms Vervoort's CV includes spells working for energy supermajor BP and global banking giant HSBC.
They came to the Granite City from France 15 years ago to work in the UK oil and gas industry.