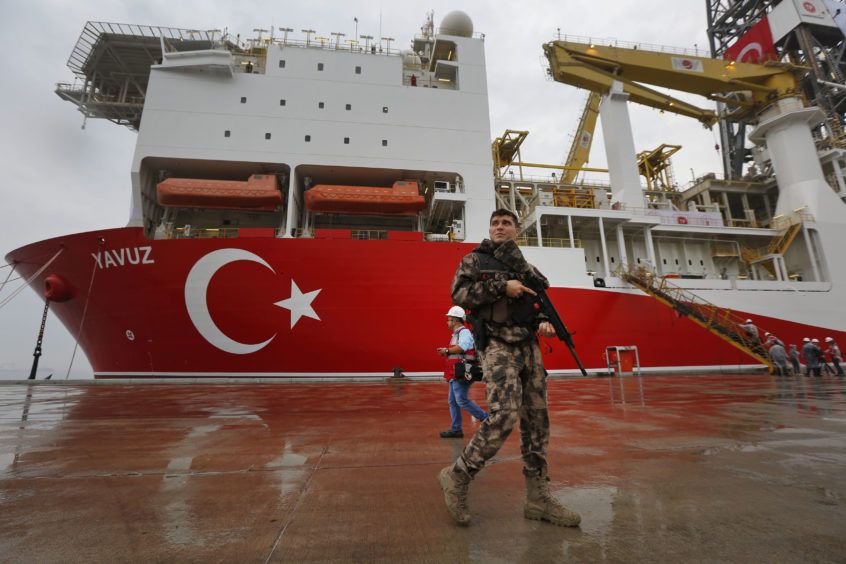 Greece is stepping up diplomatic efforts to mobilize European Union partners against Turkey, as Ankara continues its energy prospecting in contested waters of the eastern Mediterranean.
In a letter to his counterparts from Germany, Spain and Italy, Athens's Foreign Minister Nikolaos Dendias charged Turkey with trying to create a "fait accompli" in the eastern Mediterranean through military means, according to a Greek diplomat.
Greece called on the three countries — and particularly Germany — to halt exports of military equipment to Turkey including submarines and frigates, said the diplomat, who asked not to be identified as the letter is not public.
In a separate letter to EU foreign policy chief Josep Borrell, Dendias appealed for solidarity in line with the bloc's mutual defense clause, which commits members to assist "by all means" if another member is a victim of armed aggression.
In that letter, obtained by Bloomberg, Dendias says that the EU's "benevolent approach to divergences" with Turkey, focused on dialog, has been "to no avail."
In a third letter to European Commissioner for Enlargement Oliver Varhelyi, Dendias said Ankara has continued to violate the EU-Turkey customs union through new tariffs, legislation and other measures, according to the diplomat.
Greece is seeking measures in response including the suspension of the union.
Turkey has been seeking to join the EU since the 1980s and began membership talks in 2005. Modernization of the customs union, which entered into force in 1996, has been held up since December 2016.
Accession talks have also effectively been frozen with the deterioration in EU-Turkey ties dating back to that year, when Turkish President Recep Tayyip Erdogan responded to a failed coup attempt by unleashing a widespread crackdown on political opponents.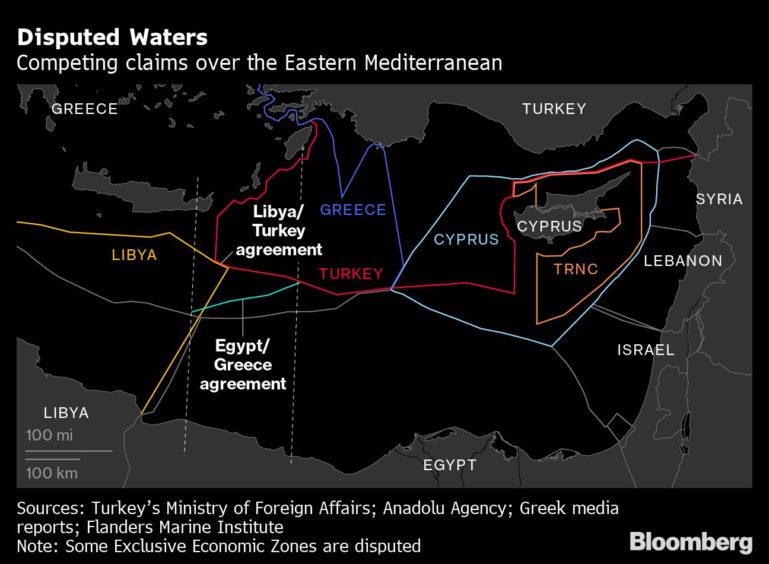 Greek media reported Tuesday that Turkish survey vessel Oruc Reis, which has been conducting seismic surveys in waters contested with Greece in recent weeks, sailed to within 9 nautical miles (17 kilometers) of the island of Kastellorizo.
Ankara had recalled the ship last month to allow for an attempt at dialog with Greece over territorial disputes, while warning that the vessel would return in the absence of progress.
Greece maintains that islands must be taken into account in delineating a country's continental shelf, in line with the United Nations Law of the Sea, which Turkey hasn't signed.
Ankara argues that a country's continental shelf should be measured from its mainland, and that the area south of Kastellorizo — just a few kilometers off Turkey's southern coast — falls within its exclusive economic zone.
"The best expression of European solidarity would be a European initiative, or possibly at the level of European member states, that would not allow the sale of weapons to Turkey which could be used to threaten sovereignty of EU member states," Greek Prime Minister Kyriakos Mitsotakis said after an EU summit last week.
Dendias met with Albanian Prime Minister Edi Rama in Tirana on Tuesday, as the two countries seek agreement on delimitation of their maritime borders. "Greece and Albania ready to work jointly in order to submit the issue of the delimitation of maritime zones to the International Court of Justice in The Hague," Dendias wrote in a tweet after the meeting.