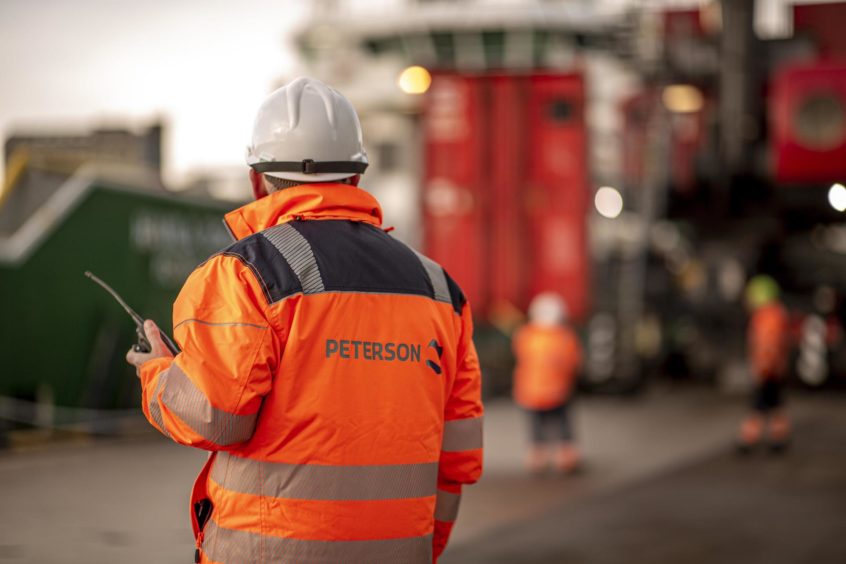 International energy logistics provider Peterson has confirmed it carried out a "resizing" of the business earlier this year in order to make the transition to home working more straightforward.
John Bain, the firm's chief financial officer, said the restructuring would allow the company to remain in operating profit this year and that they were taking a "moderately cautious but optimistic" stance looking ahead to 2021.
However, he claimed it was "too early" to say yet what impact the action taken this year has had on the company's headcount.
Peterson released its full year financial results for 2019 yesterday showing pre-tax profits for the year of £207,000.
That's up from losses of £5.7 million in 2018, a year Mr Bain described as the company's "most difficult".
Peterson posted revenue for 2019 of £256m, up 4% year-on-year, while operating profit was £1.1m, an increase of £6m on 2018.
It also revealed that around 500 workers are still employed by Peterson in Aberdeen, despite the firm's headcount dropping by 10% to 1,027 in 2019.
The drop has been put down to "several factors", including retirements and employees transferring to other parts of the business.
Peterson chief executive Erwin A. Kooij welcomed the business' "positive" showing and revealed there has been "increasing global interest" in the firm's fourth-party logistics concepts.
He added: "In response to Covid-19, we have seen that by adjusting our methodologies and resources, resizing our business for new circumstances and having had the strong vision to invest continuously in technology, we eased our transition towards homeworking.
"Our health, safety, environment and quality team also moved quickly to implement our new life saving rule on social distancing across our business.
"Our clients continue to seek efficiencies across the supply chain and we are well placed to respond to this with new, innovative solutions that enable collaboration, pooling with vessels, sharing of resources and materials management.
"We see our clients embracing our new working models, especially in our international markets."
Peterson has also made "significant recent investments" across the business totalling more than £6m.
Around half of that went on a new giant marine fuel tank at the firm's Torry Marine Base on the south side of Aberdeen Harbour.
On the impact that the Covid-19 pandemic and oil price crash has had on such investments, Mr Bain said: "We're in the fortunate position of being privately owned so our shareholder tends to take a very long term view of the future. That's why, even in our most difficult year in 2018 they were happy to spend money on fuel tanks.
"We're continuing that spend and it's really on two fronts. Internationalisation, which needs people and travel costs, and technology – our spend on that is a couple of million a year because we see it as being the future of how we support our clients."
When asked about his predictions for the firm's showing in 2020, Mr Bain said: "We've reacted quickly to the changes brought about by low oil price and activity and we've got the business structured to remain in an operating profit.
"It really has impacted on how we work and, much more broadly, employees are remote working.
"We've followed that government advice and changed the approach on quaysides to manage social distancing.
"We've put a lot of time and effort into that and the technology has helped us to adjust our feet to meet that new client need."
Recommended for you

EXC: New Aberdeen firm Elemental Energies buys-out Vysus wells business