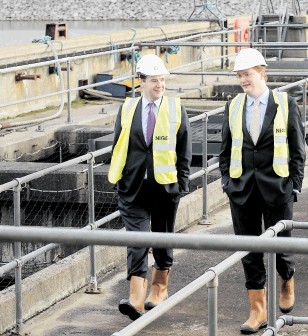 Chief Treasury Secretary Danny Alexander will claim today that oil and gas taxes could be increased in an independent Scotland.
The Highland Liberal Democrat MP is expected to cast doubt over the SNP's plans for an oil fund – but could leave himself open to accusations of hypocrisy.
He will argue in a speech in London that a Norwegian-style wealth fund would have to be raised either through spending cuts or tax rises – and will single out the offshore sector as a possible target.
Mr Alexander will also suggest that independence would "undermine" the fundamental strength of the oil and gas industry.
But the claims are likely to provoke an angry response from nationalists.
Mr Alexander is the minister who reportedly "boasted" last year about being the architect of the UK Government's shock £10billion tax raid on oil and gas producers.
The Budget measure, which funded a cut in fuel duty, caused uproar in the industry and was said to have jeopardised multimillion-pound North Sea investments.
The MP for Inverness, Nairn, Badenoch and Strathspey is expected to say Scots should be "proud" of the offshore sector and its long-standing strength in financial services.
But Mr Alexander will add that "to cut off Scotland from the rest of the UK means to rely too heavily on these volatile sectors – to bet the economy each year on the financial markets and on oil prices".
The member of the "quad" of senior ministers who run the Conservative-Liberal Democrat coalition will turn his fire on proposals to create an oil fund, which the SNP has said could be worth £30billion in a generation.
"Clearly, the viability of any such fund would be dependent on the Scottish budget being in surplus in future years," he will say.
"But according to the Scottish Government's own figures, an independent Scotland would likely have a significant budget deficit. So, in the absence of significant rises in price and production, any decision to create a sovereign wealth fund may have to be supported by either spending cuts or the imposition of additional taxation, for example on oil and gas production."
First Minister Alex Salmond has suggested that an oil fund would only be created if "fiscal circumstances allow".
Mr Alexander is also due to launch a fresh attack today on SNP plans to keep the pound as an independent Scotland's currency.
He will argue in the same speech that the Scottish Government would have to agree a "mutual set of obligations and commitments" with Westminster ministers for a currency union to successfully operate.