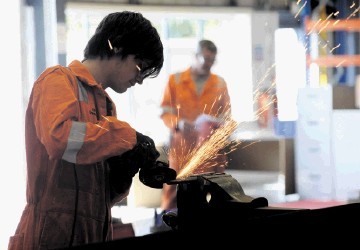 A north-east oil and gas service firm has moved into new headquarters more than 10 times the size of its previous base.
Control Valve Solutions (CVS) said it had shifted from Aberdeen to Portlethen to accommodate its growing workforce.
CVS, which makes and tests control valves for the oil and gas industry, invested £250,000 in the 26,900 square-foot site at Badentoy Park.
The company, set up only three years ago, now has annual turnover of £3million. It employs 16 people, but managing director Mick Beavers said the figure could rise to 40 in the next three years.
Mr Beavers said CVS had to move out of its old headquarters in Links Street near Aberdeen harbour because it was bursting at the seams and now was the right time to expand.
He added: "Last year, the oil and gas industry was rocked by Chancellor George Osborne's tax rise in the Budget. That knocked everyone's confidence, including ours.
"We did not want to make too bold a move following that uncertainty, but things have since gone from strength to strength.
"We have smashed our targets and that gave us the confidence to move forward."
Mr Beavers said CVS was focused solely on the North Sea and was enjoying new opportunities in the region, adding: "For the next five to seven years, we do not want to break away from our home market; that is the market everyone here is knowledgeable about and understands.
"Although we get asked to do work in other areas, the North Sea is exceptionally exciting at the moment and we feel we are just scratching the surface of what we can do here."