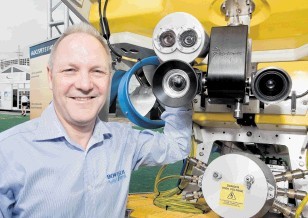 North-east oil service firm Bowtech is to invest £3million in a new headquarters on the back of increasing exports.
The firm, which has two separate sites at Dyce, designing and manufacturing underwater vision and camera systems, is to consolidate the business on to one new site.
The move will more than double the firm's office and workshop footprint, from about 8,500 square feet at the moment to more than 20,000sqft.
Bowtech sales director Mike Winstanley announced the plan at an energy business breakfast event in Aberdeen yesterday.
Managing director Stephen Bowring said that export sales, currently 65% of turnover, were growing year on year.
He added: "The only way we can continue to grow is by building a new building.
"The growth is international. A lot of our customers are based here, but the products they buy are going from here to projects in the likes of Brazil and west Africa."
Turnover at the firm was £5.5million last year and projected to reach £6.5million this year, said Mr Bowring. The firm said staffing, at about 40 now, would be able to double to about 80 in the new building, the location of which was undisclosed, but a contract is due to be signed for the project shortly.