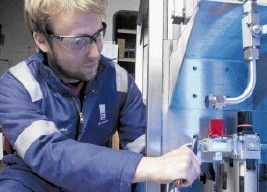 Oil and gas service firm EFC Group said yesterday it planned to recruit 10 people after opening a base in Moray.
The Aberdeen firm, which designs and manufactures controls, handling, instrumentation and monitoring systems for the global oil and gas industry, added it would open its second Scottish site at Forres Enterprise Park.
Its new satellite office will focus on design and project-engineering work on instrumentation and controls, and is expected to help the business to increase annual turnover to more than £30million by 2016, from about £11.5million in 2011-12.
Chief executive Bob Will said: "This launch is a positive reflection on the success EFC is experiencing as well as demonstrating the commitment we have to sustainable and long-term growth.
"As EFC has already surpassed its financial targets for 2012 to date, we know it is essential to continue investing in the critical areas of well-control and blowout preventer control processes and instrumentation."
EFC said staff at the Forres base would take its total workforce above 100, and added it was considering extending its presence in Moray further with a factory. Mr Will said: "The enterprise park offers ideal, purpose-built premises in which EFC will be able to continue developing the innovative solutions that we are internationally renowned for.
"This is the perfect environment to support and to continue encouraging our talented workforce."
In addition to its Aberdeen headquarters, EFC also has an office in Leeds and a manufacturing plant in Houston, Texas.
Earlier this year, the Scottish Government announced plans to invest £10million into the development of Forres Enterprise Park to help deal with the economic challenges of the closure of nearby RAF Kinloss.
The site has also been earmarked as an enterprise zone, meaning companies will be offered incentives to establish a presence there.
Recommended for you
X

Environmental consultant sets sights on global growth