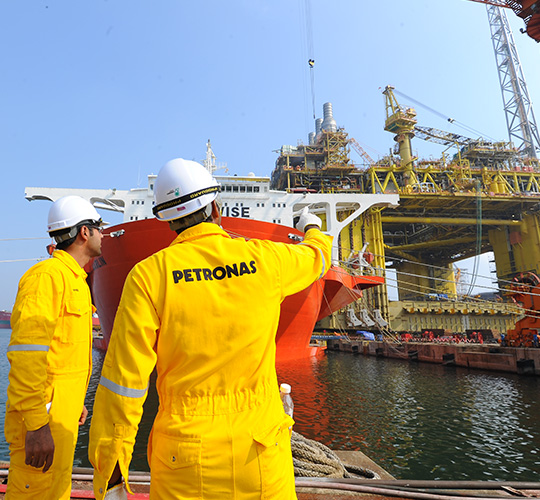 Malaysian national oil company (NOC) Petronas said that it is making every effort to ensure the safety of about 155 workers that are sub-contracted on a barge servicing its Yetagun platform in the Andaman Sea off Myanmar following the military coup.
Malaysian media reported that some 200 workers were stranded at the Yetagun project after losing contact with ground control since the military coup on 1 February.
The report by Mingguan Malaysia said that the staff have had no contact with their employers or the Malaysian embassy, adding that they are running short of food and gas supplies.
Some staff have already been sent onshore, but the main challenge now is that helicopter services have been grounded, according to the report.
"There are no helicopters now. We believe they are now under the control of the Junta (military). We have no idea what's happening over there," an employee stranded offshore told Mingguan Malaysia.
In response to the news reports claiming that the workers are stranded offshore, Petronas said yesterday that "it is in close contact with the team and working closely with the contractor in overseeing the well-being of their workers and ensuring continuous supplies of essentials, including food, drinking water and fuel."
"Another 36 workers under the contractor and two Petronas employees were already transported to nearby hotels safely for onshore rest and recovery while observing COVID-19 quarantine requirements," said Petronas.
"Petronas is working closely with its contractor, the Embassy of Malaysia in Myanmar, Wisma Putra and all relevant authorities in managing this matter. The safety and well-being of our contractors and their families are our utmost priority," added the NOC.
As Energy Voice reported previously, the military coup has created logistical challenges for many exploration and production companies operating in the country, including Woodside Energy.
The military coup could derail billions of dollars in oil and gas investment and stall energy projects. The bloodless coup has also prompted some upstream companies to assess whether they should activate force majeure clauses in their production-sharing contracts (PSCs) with the government.
International leaders around the world are calling for the restoration of Myanmar's democracy after the military seized power by arresting civilian leader Aung San Suu Kyi and other senior politicians.
Suu Kyi and members of her ruling National League for Democracy (NLD) party were taken into custody by soldiers on the same day as the first new parliamentary session was due to be held since national elections last November.
Recommended for you

Petronas and PTTEP exit Myanmar's Yetagun project