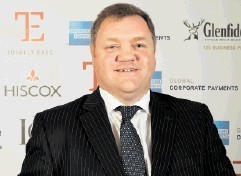 The north-east's Alfie Cheyne has beaten impressive competition to be crowned global director of the year by one of the UK's top business organisations.
Mr Cheyne, chief executive and founder of Ace Winches, was named the winner of the prestigious title at the Institute of Directors' annual awards in London.
His place on the final shortlist was secured in March, when he won a regional director of the year award.
Entrants had to be able to show that at least 25% of their company's turnover was from overseas sales. ACE Winches was hailed for its success in exporting and commitment to continued growth in international business.
As he received his accolade, Mr Cheyne said: "Although the award is handed to me, I really do feel that I am accepting it on behalf of everyone who works so hard to make the business a success.
"Export growth has been a longstanding strategy for Ace."
IoD Scotland executive director David Watt said: "Alfie thoroughly deserves the recognition of being named global director of the year.
"His leadership has helped the business (Ace Winches) demonstrate high growth and worldwide reach to become a global leader in its field.
"This is a prestigious accolade and one which he has earned thanks to his creative decision making, energy and drive."
James Dunbar, chief executive of Inverness-based social enterprise New Start Highland, and Scottish Enterprise chief executive Lena Wilson were among the highly commended.
Ace Winches, based at Towie Barclay Works, near Turriff, manufactures winches and marine deck machinery for the offshore energy industry.
In June, the firm said it made pre-tax profits of £6.9million in 2010-11.
Recommended for you

Ace Winches lifts its global targets