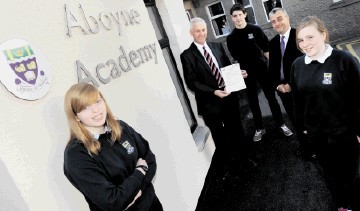 Offshore accommodation specialist Arcadion and Aboyne Academy have formed a new partnership which aims to prepare pupils for work.
Aboyne Academy rector Raymond Jowett described the partnership charter – signed at the school yesterday – as something new, unique, quite different and very welcome.
Arcadion technical director Clive Gregory said it was "an expression of our commitment to the pupils of Aboyne Academy and our belief we can give them a better practical understanding of the skills needed in the engineering and design industry".
Mr Gregory added: "It is an exciting opportunity for us to add value to the next generation of talent."
Aberdeen-based Arcadion held a half-day session at the north-east school on Tuesday, with 28 third-year pupils studying engineering and science taking part. Seven representatives of the firm helped the students to plan and deliver a project presentation.
Arcadion has previously been involved in a sponsored walk by Aboyne Academy pupils and the company has also pledged to provide food for the school's Christmas fair on December 1.