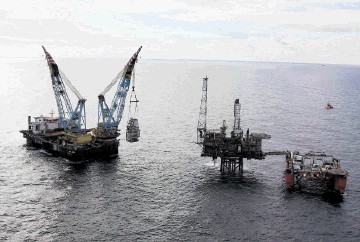 The £700million Kinnoull project which will extend the life of a North Sea installation by a decade has moved a step forward.
A new 750-tonne process module has been installed on to BP's central North Sea Andrew platform.
It will help to unlock the nearby Kinnoull field and also two others which the oil major is targeting in the area, 143 miles north-west of Aberdeen.
As part of the project, Kinnoull – which contains recoverable reserves of about 45million barrels of oil equivalent – will be connected back to the Andrew platform by a 17.3-mile set of pipes (bundle), described by BP as the longest bundle in the world.
At a later date two smaller fields, Arundel and Lower Cretaceous, will also be tied back to Andrew.
Trevor Garlick, regional president for BP's North Sea business said: "The Kinnoull project is significant to the North Sea business and wider BP, and is a clear example of the company's strategy in action.
"This is to focus the portfolio, maximise recovery from the base assets and invest efficiently for the future, in major projects and exploration. Advances in our understanding of the reservoir structure, deployment of the very latest in UK subsea engineering skills and a major upgrade of the Andrew platform are key success factors of this development."
Andrew came on stream in 1996 and production was originally expected to last about 18 years. BP said tying in Kinnoull, due to come on stream in early 2014, will extend the life of the platform by about a decade. Adding the two smaller fields, taking total project costs to £900million, could extend Andrew's life further still.
Recommended for you

30 Seconds to Saturn: Flagship IOG project go for launch