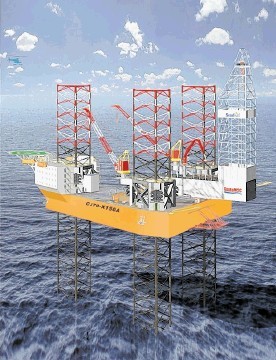 Seadrill's plan to slash its home country presence in favour of another headquarters location stands firm more than a month after the drilling major's chairman John Fredriksen said Norway was too expensive.
Several locations including London, Dubai, Singapore and Houston are under consideration.
While London is said in some quarters to be favourite, there is also speculation that Fredriksen might favour Cyprus as that is the domicile of his huge tankers business, Seatankers.
Given that the bulk of the company's fleet works in the Greater Atlantic region and that both Transocean and Rowan dumped Houston in favour of Europe . . . in Rowan's case Aberdeen is operational HQ, another, a lower cost European location appears favourite.
The company claimed in a statement: "Stavanger may constrain Seadrill's aggressive growth plans, for which access to qualified personnel is critical. The Norwegian cost level and distance from Seadrill's core markets makes travel and logistics cumbersome when managing world-wide operations."
Chief financial officer Rune Magnus Lundetrae added: "We have a lot of oil and offshore competence in Norway but we are doing some complex capital transactions globally and that sort of expertise is not the easiest to find in Norway."
The company claimed that its top management team was supportive of the possible relocation.
However, CEO Alf C Thorkildsen has left the company, though he will stay on the board of majority-owned North Atlantic Drilling. It is said that he did not agree with the Fredriksen plan. His replacement is Fredrik Halvorsen, currently the CEO of Archer, another significant Norwegian player in the drilling and well services market.
Thorkindsen joined Seadrill as a result of the Smedvig acquisition in 2006 and is credited with driving the company's remarkable growth of recent years.
Halvorsen has been a director of Archer since 2010, stepping in as interim CEO of the company in January this year.
Fredriksen said: "Our decision to consider moving Seadrill's central management function should be seen as a dynamic decision to adapt to a changing market.
"In total, four of our largest competitors have, in the last five years, taken similar decisions.
"The ultimate target is to secure access to the most skilled workforce, support our regional operations effectively, provide our customers with a first-class service and ensure the company remains cost competitive."
Seadrill has built up a huge fleet of mobile offshore drilling units. The current count stands at 67 very modern drillships, jack-ups and semi-submersibles, including 19 rigs under construction . . . mostly deepwater units.
There is heavy emphasis on deepwater and harsh environment rigs and the fleet currently operates in over 15 different countries across five continents.
In its latest move to continue growing aggressively, Seadrill has just raised its stake in drilling company Asia Offshore to 64.23% after snapping up 12.19million shares at $5 apiece. The Norwegian group will now make a mandatory cash offer for the remaining shares.
Asia Offshore has just won the first drilling contract for one of its three jack-ups under construction.
It sees revenue of about $197million for the three-year period starting June 2013 as well as a $39.5million mobilisation fee.
Seadrill bought a 34% stake in Asia Offshore in July 2011 after a takeover of Scorpion Offshore in 2010.