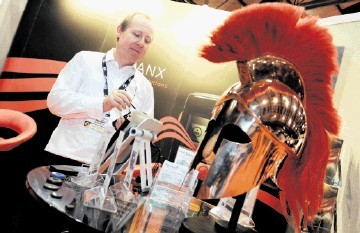 Record numbers of oil industry bosses took part in an information-sharing event yesterday, reflecting booming levels of activity in the North Sea.
The annual Pilot Share Fair, organised by Oil and Gas UK, saw more than 1,500 people from across the UK through its doors at Aberdeen Exhibition and Conference Centre (AECC).
Its aim was to give the supply chain a chance to learn about what projects and contracts some of North Sea's main operators are planning to work on and issue in the next 18months.
This included ConocoPhillips saying it would be looking to put out to tender its helicopter contract in the second quarter of 2013 and Talisman revealing a planned 40-45% boost in UK spending.
The event also saw major engineering and contracting firms, including Petrofac, Wood Group and Amec, outlining their plans.
Paul de Leuww, strategy director at Centrica, said it was the fourth Fair Share he had been to – and the biggest.
He also warned that because of the level of activity in the sector, the industry needed to get better at planning.
Centrica is on average spending about £1billion a year on projects from infill wells on the Annabel field in the southern North Sea to work on an onshore terminal in Trinidad, all of which the Scottish supply chain had the potential to get involved in.
Chevron said it was dealing with some 650 contractors, suppliers and vendors, highlighting how many firms operators relied on.
Companies from the supply chain exhibiting at the event included DOF Subsea, EnerMech, Safelift Offshore and Proserv.
Energy consultancy Adil unveiled a new web-based supply chain management process, Axis.
Adil general manager John Moody said: "The Pilot Share Fair is an excellent opportunity for us to showcase what we have to offer the energy sector, to gain insight into the plans of operators and to network with prospective and existing clients."
Apache, also at the event, said subsea developments would be an "ongoing huge spend", especially on its Beryl assets, with four to eight drill strings active in the next couple of years.
It will also be working through seismic data, having increased its coverage of 3D seismic data from about 11,500 square miles to 50,000sq miles between 2010 and 2012.
Technip said its major projects at the moment included work on BP's Quad 204 project – a floating production vessel west of Shetland and its largest contract to date at £500million.
The French energy service firm will also be working on Ithaca Energy's Greater Stella Area development. Among tenders coming up on this is contract a to build a mid-water arch is to due be put out in 2013.
Recommended for you

IHS sketches out development plans for Africa's Atlantic discoveries