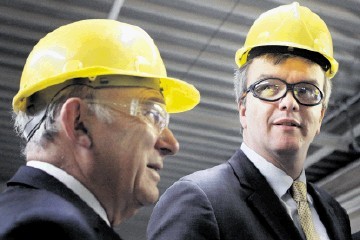 Scotland's new environment-friendly investment bank will unlock billions of pounds in private finance for green projects, Business Secretary Vince Cable told an industry audience in Edinburgh yesterday.
Speaking at the launch of the Green Investment Bank (GIB), Mr Cable said the new, world-leading body was out to make a profit and would bring in investment equivalent to five times its own spending by 2015.
The £3billion GIB has been capitalised with taxpayers' cash with the hope of kick-starting a rush of private funding for emissions-reducing and green electricity-generation projects. Mr Cable said: "It's a bank with a commercial bottom line.
"Its aims are environmental objectives, together with a financial return."
The business secretary said 32 British cities had fought for the right to host the GIB, but Scotland's prowess in renewables and Edinburgh's financial sector had made the capital a clear favourite. But he added that investors had so-far passed up opportunities in the UK's green sector – which he said already made up 10% of the economy and employed about a million people.
"There is a market failing, and the financial markets, of themselves, will not support many of the projects which are necessary for the green economy," Mr Cable said, adding it was more difficult than ever to secure funding for large infrastructure projects – even when returns were "stronger than they have ever been" – but stressed the taxpayer money invested in the GIB would help generate investment worth many times more.
It emerged that Scottish sustainable energy projects hoping to access funding from the GIB are set to go through a "boot camp" to increase their chances of success. Scotland's energy minister, Fergus Ewing, has moved to establish a new advisory group to improve the chances of businesses north of the border accessing funding.
He said: "This group will help Scottish renewable-energy projects be at the front of the queue to secure funding from the Green Investment Bank; taking promising projects and helping them make sure their bid is as good as it can be."
Recommended for you

Sasol signs up green power at Secunda, Sasolburg