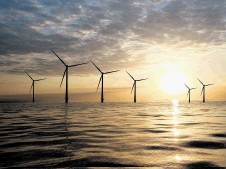 AREVA and STX France are to work together with a view to "optimising" foundations" for offshore wind turbines.
AREVA will bring its expertise in design and production of wind turbines and STX France its know-how in specialised offshore foundations, with a view to strengthen competitiveness of offshore wind power in a European market that should see its installed base reach around 40,000MW by 2020.
Under the terms of the agreement and in line with wishes of power utilities, AREVA and STX France will look to make joint wind turbine/foundation offers on major European projects.
STX France would, in addition to designing the foundations, be responsible for complete or partial manufacture of the structures.
Almost one third of investment expenditure in offshore windfarms is generated by the manufacturing.
Recommended for you

Chinese activity drove global wind turbine orders to new record in Q2