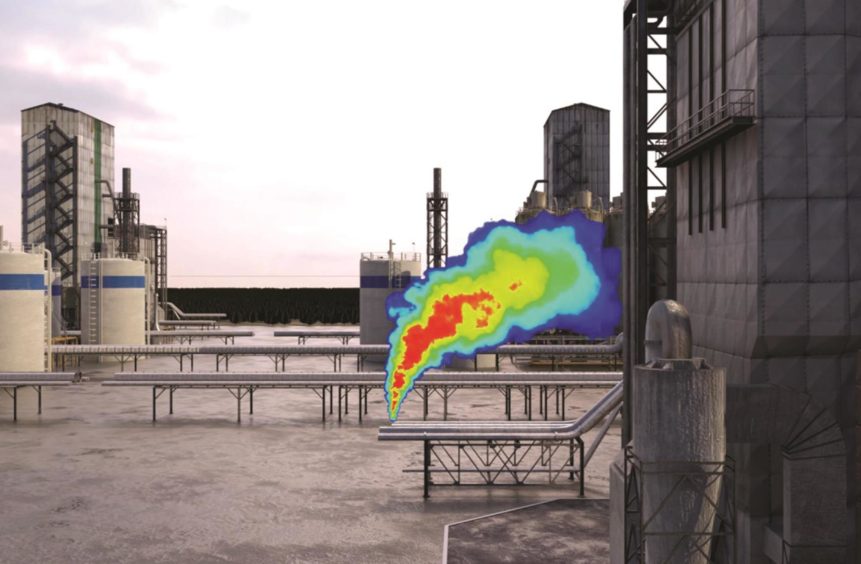 North Sea installations could soon be kitted out with NASA-inspired technology to watch for dangerous gas leaks.
US giant Honeywell International has launched its gas cloud imaging (GCI) system in Europe to provide automated, 24/7 monitoring at oil and gas, chemical and power generation facilities across the continent.
It's hoped the technology, which uses "state-of-the-art" cameras, will help companies to meet their net zero goals by flagging up expulsions of harmful substances, such as methane.
Experts have identified reducing gas emissions from hydrocarbon operations as one the most "cost-effective and impactful actions" governments can take to hit climate goals.
According to the Environmental Defense Fund, methane alone is more than 80 times more potent in trapping heat than carbon dioxide after 20 years.
Current methods for monitoring gas leaks involve workers periodically inspecting sites with handheld thermal imaging cameras, a process which Honeywell said is time consuming and subject to human error.
The mini GCI system, which is part of the North Carolina-headquartered firm's gas cloud imaging product portfolio, can be deployed in "congested areas and small sites" to "continuously monitor" for gas leaks and provide alerts "as soon as they occur".
Facility operators are then shown an "easy-to-interpret coloured visualisation" of the expulsion type, location, direction, size, and concentration, allowing for quick response.
Robert Kester, president at Honeywell and the system's inventor, said: "Our product is fairly new in the industry but the technology – hyperspectral imaging – has been around since the early 1990s.
"It was initially developed by NASA for determining what gasses galaxies are made out of. Our innovation has really taken that technology and figured out how to make it real time.
"It can be used in any facility that has explosive or toxic gasses, including offshore, providing both an environmental and a safety benefit."
To date, Honeywell's GCI technology has been deployed by more than 25 major energy and chemicals customers across the world
The company is also developing new, advanced methane quantification capabilities for the system, which will enable operators to more effectively measure methane gas emissions.
Mr Kester said: "This product delivers an immediate benefit in operations when you think about the product lost. There's estimates that as much as 4% of natural gas is lost from emissions so on a grand scale that's pretty significant
"It's also going to play a big part in finding out whether companies will hit their net zero goals. You don't know if you're even close to your target if you're not measuring and I don't know how you can measure periodically and stay on target. This system will give feedback to companies so they can make the necessary adjustments to stay on track."
Earlier this year, North Sea operator Neptune Energy announced plans to position drones, kitted out with methane detection technology, on its Cygnus platform in order to track emissions.
A key objective of the study, which will get underway in July, is to establish a "reliable benchmark" for assessing total offshore releases.
Mr Kester added: "We're really complimentary to a lot of the mobile monitoring solutions, whether it's satellites or drones. Our system's niche is that it is continuous and quantifiable.
"These cameras can be installed and they run 24/7 so when a leak occurs, it can be caught straight away and someone can be dispatched to fix it. That's providing a huge benefit to the environment."