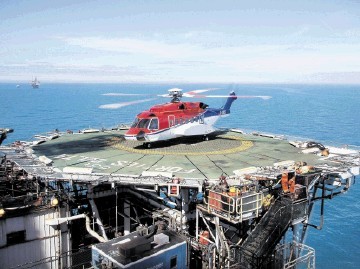 North Sea helicopter operator CHC Scotia said yesterday that rising oil and gas activity had helped it to record an 11% increase in turnover and return to the black.
The company, which operates crew rotations to offshore platforms, said it was confident of further growth and expected the rising demand for its services to continue in the current year.
Accounts just published by Companies House revealed that CHC turned over £164.2million in the 12 months to April 30, 2012. Operating profits were £2.3million, compared with losses of £2.1million in the previous year, while pre-tax profits were £10.9million, up from a £3.8million deficit.
a CHC spokeswoman said: "This is due to the great progress we have made in transforming our business coupled with the continued strong demand for our services, which we expect to increase further in the year ahead.
"Our optimism about CHC's opportunity begins with the oil and gas industry, which directly accounts for 80% of our revenue globally.
"On the UK continental shelf in particular, exploration, discovery and production activities continue to increase with customer wins coming from both established and selected new locations.
"In 2012, that included a new, five-year contract with Shell in the UK with the option of a further five-year extension."
CHC employs about 480 people, with the majority based out of Aberdeen.
It has 24 helicopters across the UK, at bases in the Granite City, Humberside and at North Denes outside Great Yarmouth.
The operator's fleet includes some Eurocopter EC225s and many of this type of aircraft have been grounded after one of CHC's helicopters ditched in the North Sea last year.
Eurocopter is still trying to identify the root cause of the incident on October 22, which the aircraft manufacturer believes to be identical to the ditching of a Bond helicopter in May, but said earlier this week it hoped all the grounded aircraft would be back in the air within two or three months.
Recommended for you

Neptune Energy awards $53m contract to CHC for Dutch sector