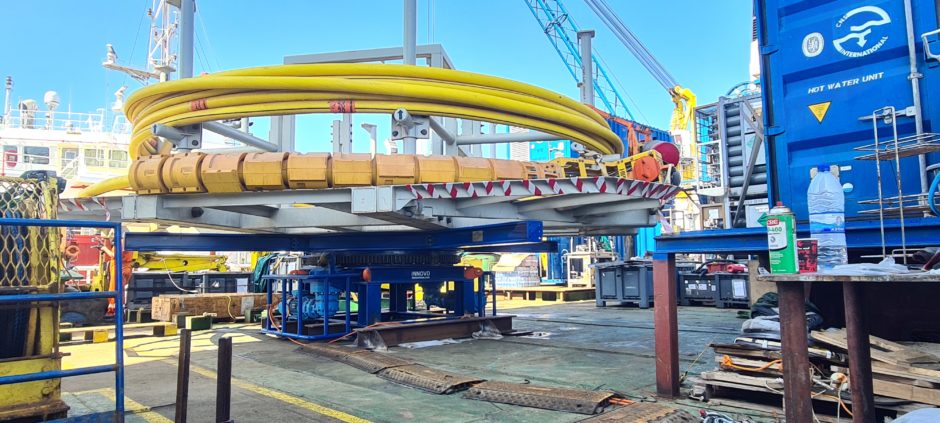 Garry Millard, corporate new business development director at Innovo, explains how modular engineering can fast-track delivery even when bespoke solutions are called for. 
If there's one thing that's a common experience throughout the energy industry supply chain, whether you're providing cablelaying equipment or consultancy, cranes or catering, it's the need to meet seemingly impossible deadlines.
How often have you heard the phrase, "Oh, and we need it yesterday" after hearing the scope, location and so on?
A case in point was a call from multinational oilfield services company Saipem to Innovo to deliver a bespoke motorised drum for winding and unwinding flying leads on BP's Atoll gas field, offshore Egypt.
The contract allowed just 70 days from order to delivery.
We all develop strategies to deal with 'impossible' missions. For some, it's to bring in new resources, or subcontract or to ask resources to work longer hours, though those strategies have their perils due to a lack of experience, lack of product and process knowledge, and safety risks that accompany unfamiliarity and fatigue.
How do you fast-track customise equipment without compromising quality or safety?
For Innovo, the answer lies in ingenious modularity. By investing in research and design (R&D) over the last 20 years, a knowledge bank of modular technical solutions has been accumulated which means that bespoke equipment can be designed, produced, transported and assembled fast.
Production of modules takes place in parallel at manufacturing centres on several shifts to save time while assembly takes place in sub-components which in turn are assembled into the final product.
This optimisation of production processes leads to a reduction in hours of manpower used in assembly, lowering manufacturing costs and saving time.
Deceptively simple
Making equipment simple to assemble and operate takes a real commitment to attention to detail in the design phase as well as using consistently high quality components. After all, there's little point in meeting a deadline only to find the equipment doesn't do the job or needs reworking once it's in position – costing time and money and having potential knock-on effects for operations.
Yet it's still all too common for compromises to be made in the early stages only to pay the price later.
Not only does Innovo place great emphasis on the integrity of its modular designs, it has always exclusively used western components and taken extreme care in selecting its supply chain to produce the modular components.
Innovo also plans the shipment of its products in detail. The modules of the Innovo Motorised Drum (IMD) delivered to the Atoll field were specifically designed to be shipped in standard containers which helped to beat the deadline as well as offering cost savings for the customer.
Once aboard the Saipem FDS, the simplicity and quality of the modules meant that the IMD was assembled and ready for operations in under one work shift.
The choice of an electrical system added to the ease of assembly. Once operational, the absence of hydraulic oil meant there was no downtime for cleaning and no maintenance.
The IMD's Programmable Logic Controller (PLC) is more efficient than standard systems in terms of performance and energy saving. Simplicity of design plays a part here too as it has a user-friendly interface which proved easy to learn for offshore technicians.
The IMD contributed to productivity as its double motion safety function ensures safe continuous operation.
Although the machine was a new and bespoke design, it worked immediately in a 'plug & play' scenario.
Innovo's design philosophy allowed it to build, test and deliver the fully electric IMD in under 12 weeks, proving that modularity is a strategy that works when achieving seemingly impossible missions.
Garry Millard Corporate New Business Development Director at Innovo Engineering & Construction