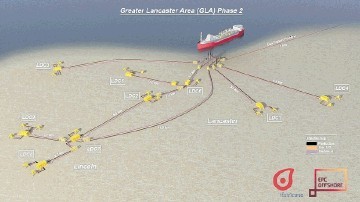 In 2009, Hurricane Exploration performed a first in UK waters. The small, but specialist, exploration outfit was the first to plan and drill a basement reservoir as an exploration target on the UK Continental Shelf, making its light oil Lancaster discovery West of Shetland.
Now the privately-funded Surrey-based firm is eyeing a development for the field likely to require a floating production and storage (FPSO) vessel similar in size to BP's Schiehallion or Foinaven, capable of working West of Shetland and with a design life of some 25 years.
However, this will not be before Hurricane has assessed a few more potential firsts for the UK North Sea.
Working with Aberdeen-based concept development and project management firm EPC Offshore, the firm is sizing up an early production phase – potentially with a floating system like the Vampire Production system.
This will both help Hurricane meet the economics of the development but also provide further understanding the "immense upside potential" of Lancaster through established production history.
Peter Kirkbride, EPC's chief operating officer, said: "The Vampire – versatile production system – is aimed at short field life.
"It has a DP (dynamic positioning) system so you can do a couple of wells and go elsewhere. It wasn't seen as a candidate for full field development but as part of an early scheme it has been given serious thought.
"A subsea tie-back would be the smallest and cheapest option. When we first started looking at it the Solan development (a jacket due to go in-field just south of Lancaster and be producing next year) wasn't an option.
"Now we are doing a study which would make a tie-back more viable. It would need to be heated pipeline but with still live crude so it would not be such an issue (as with the stabilised crude when the gas content has been stripped out)."
If used for early production, the Vampire system would be required to have a name-plate through-put of 20,000 barrels of oil per day from "three or so wells" – likely to be producing about 15,000 per day.
Another option could be a vessel similar to the BW Athena, being used by Ithaca on the Outer Moray Firth Athena development. While it was initially seen as perhaps being too small, EPC say its performance is leading them to have more confidence in the design.
Lancaster's 2C fractured basement reserves are currently booked at 207million barrels, with a further 150million prospective (P50) barrels in the nearby potential tie-back Lincoln field, also in basement and both containing light oil from Kimmeridge clay source rock (the same source as in the Clair field).
A project sanction date of the end of 2015 is being aimed at for the full field development with first production towards the end of 2018.
Some 43 different specifications for full development, including the possibility of using a jacket, have been worked through for the field, again with EPC Offshore, leading to a short list of eight or nine.
"It is not in an extreme water depth, it is about the same as Solan, so a jacket could be feasible," said Kirkbride.
"But the subsea wells are going to be quite spread out over the reservoir which spans 10km. There is no point trying to drill from one location.
"Even if a platform is used, all the wells would still be subsea and you would still need a shuttle tanker.
"It is also quite a waxy crude and gels quite easily (especially when stabilised) so there are flow assurance issues which would need insulated flow lines, possibly heated, and a flexible riser system tying back to the FPSO. This would also be one of the down sides to a platform development.
"One of the top options was an Octabuoy and we had a good look at it. It had potential but the down side is that it did not have enough oil storage.
"The Christmas trees would also be on the semi-submersible rather than subsea. We also think a Sevan cylindrical design would work quite well."
Final decisions have yet to be made, the development is looking like a 10-12 riser system on an FPSO development, with 70-80,000 barrels a day though-put of hydrocarbons and water and storage for about 600,000 barrels.
Associated gas could be exported via the West of Shetland Pipeline System (WOSP).
There are likely to be five drill centres on Lancaster with the neighbouring Lincoln prospect – drilled in a down-dip flank by Arco in 1975 – tying in from another two drill centres. Hurricane also has the undeveloped Strathmore discovery, which could tie back to a Lancaster development.
Field life would be about 25 years, "if it works as predicted", said Kirkbride.
"For concept select, the environment here is the big thing," he said. "West of Shetland, we are aware things haven't gone so well out there for others."
Appraisal on the field is ongoing. Hurricane has so far drilled one exploration well and a sidetrack on Lancaster.
One or two more appraisal wells are planned for Lancaster either this year or next year.
However, Lancaster is only the start of the story for Hurricane West of Shetland. The firm is also assessing its deeper gassy Whirlwind discovery, to the north of Lancaster, which could require an FPSO solution but could potentially be supported by a platform development with gas exported through the WOSP system.
And of course, this small firm will also need some deeper pockets to dip into to help it win its massive West of Shetland basement prize.
Recommended for you

Convoluted but fair? Analysts weigh up Prax's bid for Hurricane