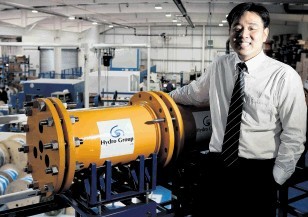 Aberdeen-based Hydro Group is eyeing Asia for growth opportunities, starting with a new office in Singapore.
The business – which designs and manufactures underwater cables and connectors for subsea and onshore use – has had representation in Singapore for some time, but a growing number of key clients in the region, significant growth in demand from customers for local support and an increase in Asian exploration activity made a new office vital for overseas ambitions, the firm's managing director, Doug Whyte, said yesterday.
Hydro has identified potential sales worth more than £1million a year in the region.
Singapore is already the company's second largest export market.
Steve Ang, who will head up the new operation, said: "Opening our new Singapore office is a proactive response to industry demand and will enhance our delivery of services, generating business growth as well as allowing us to have more direct contact with our customers and expand our network throughout the south-east Asian region."
Hydro and its subsidiaries, Hydro Bond Engineering and Hydrocable Systems, employ 80 people. Group turnover in 2012 rose from £5million-plus to more than £6million.