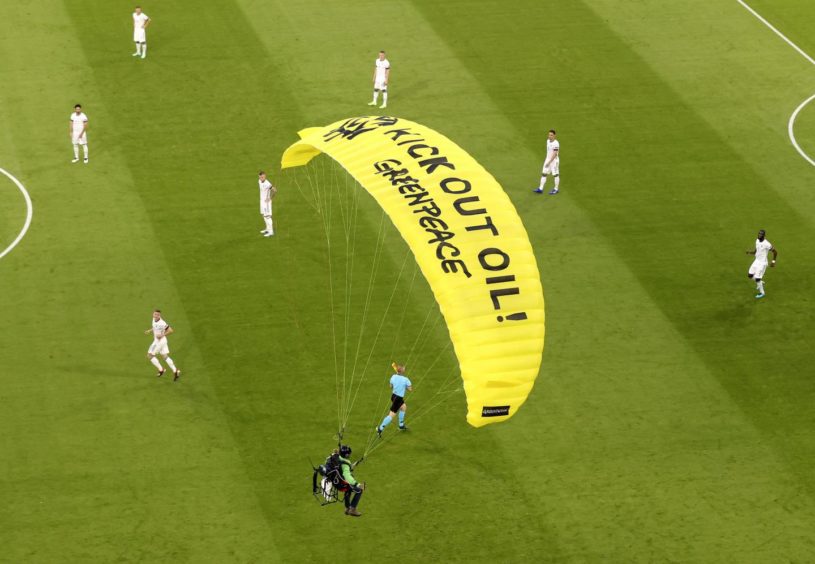 Environmental group Greenpeace has apologised after a daring stunt carried out by one of its activists at the Euros injured "several" fans.
Shortly before Germany's opening match with France in Munich last night, a protestor parachuted into the Allianz Arena, causing damage to the stadium and leaving some spectators needing hospital treatment.
The demonstrator, who had 'kick out oil' with a Volkswagen badge inscribed on their parachute, got tangled in overhead wires, used for controlling the 'spider cam', causing debris to fall onto the crowds below.
Can't believe I just caught this on video. Parachuted into the stadium, got caught in the spider cam and nearly crashed into the crowd. Hope he's ok! #GERFRA #EURO2020 pic.twitter.com/PJ49WYdFM9

— Max Merrill (@MaxMerrill_) June 15, 2021
Television coverage showed French head coach Didier Deschamps ducking for cover in the dugout.
The Greenpeace protester then landed heavily on the pitch where he was approached by German defender Antonio Rudgier, before being led away by officials.
France went on to win the game 1-0.
UEFA described the stunt as "inconsiderate" and said authorities would take "necessary action".
Jesus. Protester has just parachuted in. Nearly crashed into fans here in the stadium. Saw something with Greenpeace on his parachute.

Smacked into a big line overhead. Managed to just steer it out of the fans and land on the pitch. Then taken away by security. pic.twitter.com/Dz1UHASD9O

— Archie Rhind-Tutt (@archiert1) June 15, 2021
In a statement, the European football governing body said: "Shortly before the start of tonight's UEFA EURO 2020 match between France and Germany in Munich, a protester briefly entered the stadium from the air and tried to land on the pitch.
"This inconsiderate act – which could have had very serious consequences for a huge number of people attending – caused injuries to several people attending the game who are now in hospital and law authorities will take the necessary action.
"UEFA and its partners are fully committed to a sustainable EURO 2020 tournament and many initiatives have been implemented to offset carbon emissions.
"The staging of the match was fortunately not impacted by such a reckless and dangerous action, but several people were injured nonetheless."
After the incident, Greenpeace's German branch tweeted to apologise, blaming a technical fault that forced an emergency landing.
Wir entschuldigen uns dafür, dass bei der heutigen #Greenpeace Aktion aufgrund einer technischen Störung erzwungenen Notlandung Menschen gefährdet wurden und dadurch offenbar eine Person verletzt wurde. Wir hoffen, dass es allen gut geht. #FRAGER

— Greenpeace e.V. (@greenpeace_de) June 15, 2021
The stunt prompted anger online, with one person calling it the "most egregious own goal", on a night when German defender Mats Hummels accidentally stuck the ball into his own net to give France a crucial lead.
The most egregious own goal at last night's France v Germany game was scored not not by Mats Hummels but by Greenpeace, which botched a paragliding stunt and left a spectator injured. https://t.co/gC29sDhRa8

— Tom Nuttall (@tom_nuttall) June 16, 2021
Another Twitter user pointed out that the parachute being used by the Greenpeace activist was likely made out of nylon, which uses oil in the production process.
So Greenpeace protests against oil by using oil (fuel) to get an activist in the air. He uses a parachute made of nylon which is made out of oil. pic.twitter.com/Y877abVW1N

— Yael Potjer (@YPotjer) June 15, 2021