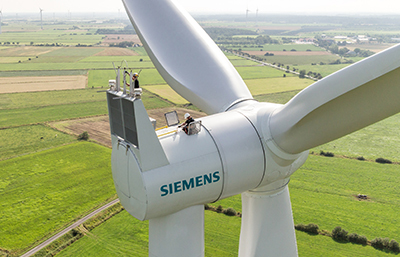 Siemens Energy AG is being overwhelmed with requests to build turbines in countries tapping wind resources and concerned about global supply chains or insistent on broadening the local economic benefits of renewable power.
"The challenge we have is how many countries are saying, 'Hey, you need to build a factory here,'" Chief Executive Officer Christian Bruch told reporters on Tuesday.
Bruch said the push from governments for local manufacturing may be related to how the pandemic has upended supply chains.
But those international networks must survive for Siemens Energy, which operates in almost 100 countries, to build a successful business around renewables, he said.
Manufacturing jobs in the renewable-energy sector are highly sought after by governments seeking employment for workers at risk of being displaced by the transition away from fossil fuels.
The pandemic also revealed how vulnerable wind turbine supply chains are to disruption.
Thousands of parts — from steel to gearing systems and weather-proof coatings — go into turbines, and the closure of factories during the initial coronavirus outbreak delayed projects.
In some countries, the requests to localize manufacturing may have more to do with a rise in protectionist policies.
Argentina, for example, has some of the world's best wind for generating electricity, but the government often forces investors to buy a portion of parts locally.
Denmark's Vesta Wind Systems A/S and Germany's Nordex SE have set up Argentine plants.
Bruch spoke ahead of a Latin America webinar next week organized by Siemens Energy, which was spun off by Siemens AG last year and is behind about 17% of the world's power.
Siemens Energy shares rose as much as 0.9% as of 9:50 a.m. Wednesday in Frankfurt. The stock has declined about 14% this year.