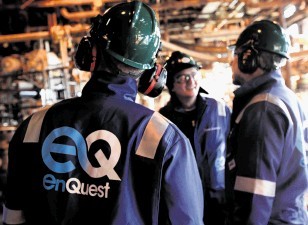 The UK's largest independent Oil and gas operator said yesterday it was on the lookout for stakes in more North Sea fields as it prepared for a busy year in the region.
EnQuest plans to drill 12 wells and start production at the £757million Alma/Galia development before the year-end.
Despite investing £531million in the UK continental shelf in the past 12 months alone, the company said it wanted to snap up more interests, adding that the UK Government's Budget announcement guaranteeing tax relief on future decommissioning costs would make it easier to take on further assets.
Chief executive Amjad Bseisu said firms such as EnQuest proved oil and gas was not a sunset industry in the UK, describing the firm as a "shining star in the North Sea". He added: "North American independents are pulling out and reducing their investments but last year was the biggest year for investment in the North Sea.
"The withdrawal of North American companies provides opportunities for us to snap up interests, and it is an opening we have to exploit."
Mr Bseisu expects the company's future growth to be driven by its Granite City workforce. He said: "We see Aberdeen as our centre of excellence and are looking to add to our expertise in the city. We have people in Norway and in Malaysia, but they are well supported by Aberdeen and it is our hub for both international and domestic expansion."
EnQuest, which also intends to sanction development of the Kraken find this year, reported a 5% drop in turnover last year to £588.5million, while earnings before interest, tax, depreciation and amortisation slid by 0.5% to £414.3million. Profits before tax and net finance costs were £268million last year, a 3.8% rise on 2011.
EnQuest was formed in 2010 through combining the UK North Sea assets and operations of Lundin Petroleum and Petrofac. It has since quadrupled its workforce to 1,600 people, including contractors.
Recommended for you

500m North Sea barrels found in last three years, despite declining exploration