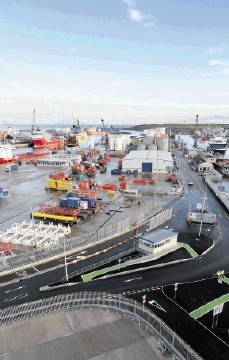 Aberdeen harbour enjoyed its busiest year yet in 2012, with record levels of ship activity and cargo, bosses said yesterday.
Aberdeen Harbour Board (AHB) said vessel tonnage was nearly 28.2million tonnes last year and the port handled 5.1million tonnes of cargo, both representing an 8% year-on-year increase.
The harbour's record 12 months meant annual turnover was up 13% to £27.4million and retained profits jumped to £7.5million, from £2.1million in 2011.
Pre-tax profits were also up to £10.5million, from £10.4million previously.
AHB chief executive Colin Parker said the results underlined the harbour's contribution to the north-east economy.
He added: "The level of revenue assists the board in its continued investment in existing facilities and ongoing maintenance of current infrastructure.
"As a trust port all profits are retained and reinvested back into projects that will allow us to achieve this. We continue with a strategy of continuous improvement and that means we are well equipped to meet the needs of our customers and play our part in attracting new business to Aberdeen."
AHB, which is considering ambitious plans to expand into nearby Nigg Bay, spent millions of pounds upgrading the harbour last year. The width of the navigation channel more than doubled to 230 feet as part of a £5.2million project, while the £30million first phase of redevelopment at Torry Quay was also completed.
After more than 850ft was added to the quay, a further 460ft will be made available by July under the second phase of development.
More than 8,100 ships used Aberdeen harbour last year, up from around 7,800 in the previous 12 months.
The port, one of Britain's oldest businesses, generates more than £500million for the north-east economy every year and supports around 11,000 jobs.