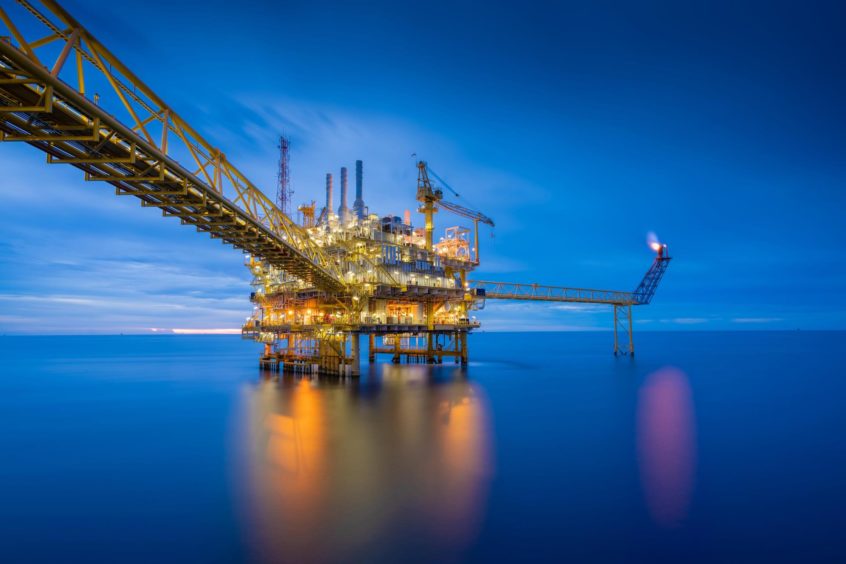 The oil and gas industry is worth an eye watering £18 billion to the north-east economy, research has revealed.
And the study from trade body Oil and Gas UK (OGUK) shows it provides around 64,000 jobs to people in the region, rising to 71,500 across Scotland.
The figures reinforce Aberdeen's importance as one of the UK's "major hubs" for the sector, OGUK said.
The Granite City has long been known as Europe's oil and gas capital and its fortunes have largely been tied to that of the industry for many years.
According to the research, carried out by Experian, the sector contributes £18.2bn Gross Value Added (GVA) to the economy of the north-east.
Across Scotland more widely, it is expected to generate about £19.44bn in GVA – equivalent to around 12% of total Scottish Gross Domestic Product (GDP).
Beyond the north-east, the sector accounts for thousands of professional service and engineering jobs in Scotland's major cities, including 1,400 in Edinburgh and 1,100 in Glasgow.
Despite the lofty employment figures for oil and gas in Scotland, as is the case with many industries, they were considerably higher pre-Covid.
Separate research recently released by OGUK revealed almost 35,000 UK jobs supported by the industry have been lost in the last year.
In addition to the pandemic, the sector felt the bite of a nosedive in commodity prices as lockdowns caused demand for hydrocarbons to evaporate.
Jenny Stanning, OGUK's external affairs director, said: "This latest report highlights the enormous role that the oil and gas industry plays in Scotland's economy, and especially in Aberdeen and Aberdeenshire.
"As the industry and energy landscape changes, the North East of Scotland will play a critical role in helping the Scottish and UK Government meet their ambitions of being net zero by 2045 and 2050, respectively. This will also bring economic and employment opportunities to the region."
OGUK also stressed that many of the jobs currently tied up in the oil and gas industry are helping to fuel the transition to net zero, either directly or indirectly.
By developing home grown energy, they are reducing reliance on imported oil and gas – a key argument made as to why the controversial Cambo field should go ahead.
The trade body also said Aberdeen's industry has the "essential expertise" to help meet the UK Government's climate targets of achieving net zero by 2050, and the Scottish Government's aim for 2045.
Ms Stanning added: "A strong economy with strong job prospects for Scottish workers can ultimately go hand in hand with addressing climate change. Major energy hubs, like Aberdeen, are not only at the heart of the UK's cleaner future, they also stand to be key beneficiaries."
Several initiatives are ongoing in the north-east designed to help the region move away from its reliance on the oil and gas industry.
Among them is the Scottish Cluster, which OGUK says will be "critical in enabling and accelerating" low-carbon hydrogen deployment.
The scheme aims to repurpose oil and gas infrastructure, and between 2025 and 2030, use a number of locations for carbon capture.
That includes SSE and Equinor's Peterhead Carbon Capture Power Station.
Over the next decade, the project could deliver 20,600 local jobs, starting as early as 2022.
Stephen Flynn, SNP MP for Aberdeen South said: "These figures reinforce the fact that oil and gas remains an intrinsic part of our local economy – providing thousands of high-quality jobs and huge economic benefits.
"Indeed it is why, as we move towards net zero, every effort must be made to ensure that we secure a fair transition that protects both local employment and our local economy."
Across the UK as a whole, the oil and gas industry contributes £31 billion GVA, supporting almost 200,000 jobs, according to the research.
The figures have been published ahead of OGUK's flagship Economic Report, due to be published on Wednesday, which looks at the trends and challenges faced by energy companies.
Recommended for you

Tories claim Labour's oil and gas ban would leave Scotland £6bn poorer