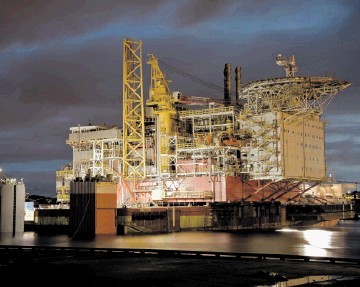 Talisman Energy Norge says it requires more time to map out its future plans for the Norwegian Yme field after the decision to scrap the platform.
The company was due to submit a revised plan by last Wednesday for developing the Norwegian Yme field before the decision to end the platform.
The Yme field has been a very troublesome affair for Canadian-based operator Talisman Energy and partners so far. In March, it was decided to scrap the platform following a number of discovered deficiencies.
Last December, Norway's Ministry of Petroleum and Energy gave Talisman a deadline of 1 May to submit a modified plan for development and operation (PDO) for the field.
"This deadline was on the condition we went ahead with the platform we have today. But the decision to scrap it has changed the picture significantly, because we have to put a new production solution in place, and therefore need more time to decide what should happen next," communications manager Grethe Elise Foldnes at Talisman said to Norwegian newspaper Aftenbladet.
Talisman and its partners have therefore now submitted an application to the Ministry for permission to look at alternative development options for the field.
These assessments will lead to drawing up a revised PDO, but this is probably quite a way away. Ms Foldnes estimates that the new plan will not be ready until end 2014, beginning of 2015.
"We still have ambitions of starting commercial production at the Yme field. We're now going to find out whether it is possible by conducting economic and technical analyses, which will form the basis for a new PDO. However, we cannot discount these will not end with us abandoning operation on the field in this instance either."
"The most important thing is that we conduct a thorough process and take it step by step," she adds.