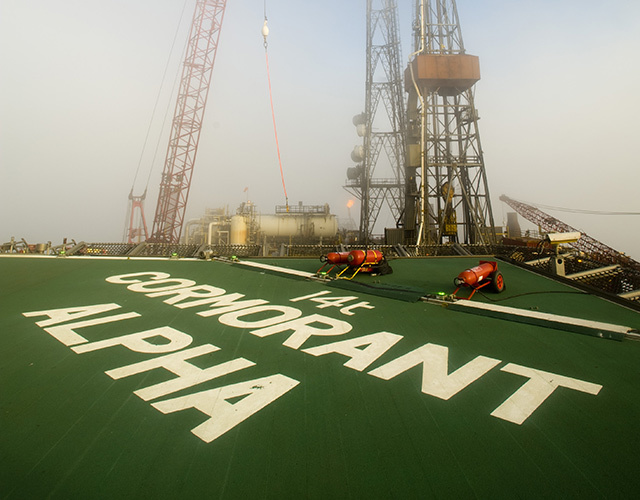 Energy giant Taqa said yesterday an oil leak at its Cormorant Alpha platform in the North Sea had contributed to a 70% slump in profits.
The Abu Dhabi firm said loss of output from the platform, which has been shut down since the middle of January, had also hit turnover in the first three months of the year.
Taqa said pre-tax profits in the first quarter were £78.2million, down from £246.8million in the same period last year, which was mainly because of lower production in the UK North Sea.
Earnings before interest, tax, depreciation and amortisation in the latest period were £474.6million, a 28% fall. First-quarter turnover was down by 6% to £952.4million, which Taqa said was "largely due to a shut-in of Cormorant Alpha in January 2013 during a major inspection, repair and maintenance programme".
The shutdown has cut Taqa's UK North Sea output by nearly one-third, down to 28,800 barrels of oil equivalent (boe) per day from 41,000.
Taqa said that despite the Cormorant incident, it had still made good progress in the North Sea during the quarter.
It pointed to its "significant" Darwin discovery and UK Government approval for its Cladhan development plan, its largest North Sea project to date, as recent highlights in the area.
Chief executive Carl Sheldon said he could take positives from a challenging quarter.
He added: "New developments and discoveries in our North Sea business promise to extend the life of these assets.
"The halting of production on the Cormorant Alpha platform was the right thing to do to ensure the safety and integrity of this critical piece of North Sea infrastructure."
Taqa's UK subsidiary, Taqa Bratani, now has a 400-strong workforce in the north-east and supports a further 2,000-plus jobs through its contractors.
It has spent around £1.3billion since entering the UK market – starting with interests in eight fields and associated platforms it bought from Shell and ExxonMobil in 2008, including the north and south Cormorant developments.
Late last year, Taqa agreed to buy fields from BP for up to £818million in a deal which will boost its UK production to 60,000 boe per day when it completes this summer.
Meanwhile Taqa has accelerated its repair and maintenance programme at Cormorant Alpha in an effort to potentially unlock 1billion barrels of oil in the North Sea.
It has stepped up the £300million project, which will keep the platform operational for a further 10 years. The work is expected to last several months, however, and Taqa has confirmed that Cormorant Alpha – normally producing up to 10,000 barrels of oil per day – will remain shut down until repair and maintenance is complete.
The platform is crucial to the operation of 27 fields in the northern North Sea as the Brent pipeline system, which carries 10% of the UK's oil and gas, runs through it.
Eight other installations – Dunlin, Thistle, Northern Producer, Murchison, North Alwyn, Tern, Eider and North Cormorant – also have to shut down production if the Brent line is closed. Cormorant Alpha output has been offline since January after an oil leak in one of its legs, with a second leak taking place in March.
Taqa has been carrying out the inspection, repair and maintenance work on the platform since 2011. Production was initially expected to continue throughout but the two oil leaks, which were contained to the legs, have forced the firm to reconsider.
Recommended for you

Watchdog's deep concern at weakening of barriers to prevent deadly leaks