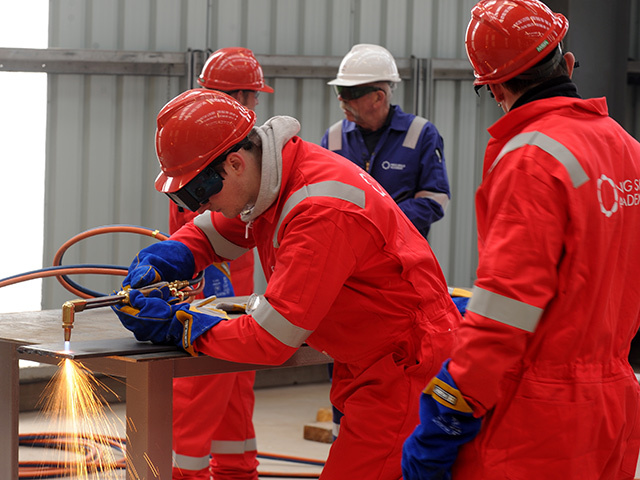 Highland energy leaders will work together to make Inverness and the surrounding area Scotland's second oil and gas hub, it has been revealed.
Energy Minister Fergus Ewing said plans were in place to bring together a taskforce to draw further investment to the north and tap into a larger pool of workers to help fill the sector's skills shortage.
Speaking to more than 300 oil and gas leaders in the Granite City yesterday, Mr Ewing said Inverness could "take the heat off Aberdeen" as firms try to attract fresh talent to the offshore industry.
The taskforce will be led by trade body Energy North and it is understood major players among both operators and contractors have signed up to support the campaign and secure investment in the region for decades to come.
At the Oil and Gas UK breakfast meeting in Aberdeen yesterday, Mr Ewing said he would be working alongside Sidney Johnston, a board member at Energy North, to lead the group.
"Next month we will be announcing an energy taskforce for the north of Scotland. Myself and Sidney Johnston, along with others, will be leading a focus to see what other parts of the north of Scotland can do to take the heat off Aberdeen in addressing the skills shortage," the Energy Minister said.
Ian Couper, chief executive at Energy North, said that as well as ensuring the north of Scotland would help meet the increasing demand for skilled workers, the taskforce would also boost rural economies in the Highlands.
He said: "The taskforce, due to be launched in Inverness early in July, will see major industry partners working with education and the public sector on a number of initiatives to help meet the skills gap, from schools' projects to retraining people from other industries.
"It will also look at new opportunities for the region by bringing more services and functions into the Highlands and islands area. This approach will deliver a solution to the current resourcing issues in the north-east by increasing capacity elsewhere in Scotland."
Calum Davidson, director for energy and low carbon at Highlands and Islands Enterprise, said: "Energy and oil and gas has been at the heart of the Highland economy for the past 40 years and it is clear that it is going to be as important for the next 40.
"Alongside major investments in offshore wind and wave and tidal projects in the waters around the Highlands and islands, we expect oil and gas investment in the North Sea and west of Shetland to rise to a level not seen since the 1980s. The north of Scotland has a well-established, skilled and experienced supply chain already supporting subsea activity around the globe, and we welcome this increased focus on the region's expertise in the oil and gas sector."
The announcement was welcomed by Highlands and islands Labour MSP Rhoda Grant who said the region was "primed and ready" to host new jobs because Aberdeen, as a energy centre, was "overheating".
She said unemployment in the city was extremely low and there was difficulty attracting people to take jobs because of infrastructure issues.
Ms Grant said: "Other parts of the north are poised to take over and it would be great for Inverness and further north. It would not take a huge amount of new infrastructure like housing and office space to attract these jobs – the north is primed and ready."
Meanwhile Fergus Ewing praised initiatives already creating oil and gas jobs in the north yesterday.
He said Global Energy Group's Nigg Skills Academy was providing a gateway for people wanting to make a move into the sector.
The facility aims to train 3,000 apprentices and other workers over three years.
He said: "I have seen at Nigg Skills Academy extraordinary determination of those who choose a different career and move into oil and gas, perhaps from a background in automotive or engineering.
"I have never been to a place where I saw such a degree of enthusiasm from the students, who are almost all mature students, and a determination to get skills and get employed in their new career. That is something we all need to tap into."
The centre at Global's Nigg Energy Park is only one of the initiatives already in place to build on the north's foundations in oil and gas. Earlier this year, ports including Nigg, Ardersier, Kishorn and Cromarty signed a deal with Highlands and Islands Enterprise aimed at attracting investment of £100million and securing lucrative fabrication contracts.
It could create thousands of jobs at the harbours, while Lerwick is also benefiting from the growing activity west of Shetland.
Its port authority is working on £15million of developments to boost capacity and take the larger vessels needed to support lucrative deep-water operations off the islands
Recommended for you

INTOG wind leasing round opens as Crown Estate backs North Sea decarbonisation