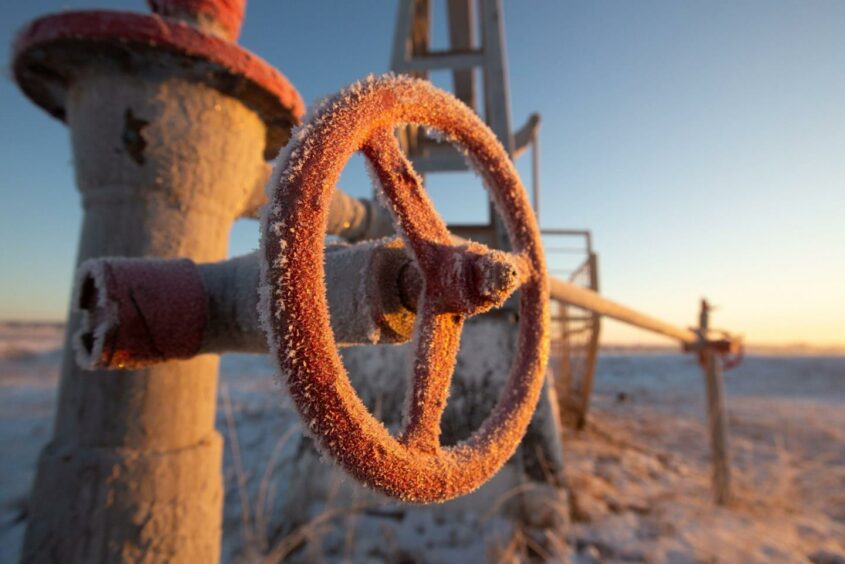 European natural gas prices fluctuated, whipsawed by Russian President Vladimir Putin's plans to decide on recognition of separatist regions of eastern Ukraine on Monday.
Russia's parliament has appealed to Putin to formally recognize the Russian-backed separatist quasi-states in the Donbas region in Ukraine, a move western officials have said would torpedo the peace process there. Putin said he would make a decision on whether to recognize those areas on Monday.
Cease-fire violations in the region have risen in recent days and Putin said on Monday that Ukraine won't fulfill the 2015 Minsk agreements, while Kyiv has repeatedly said it isn't planning any offensive operations in the area.
Europe's benchmark gas contract pared some earlier losses of as much as 6.5% after news agency Interfax reported that Russian forces killed five people and destroyed two armored personnel carriers of the Ukrainian forces who tried to cross the border. The Kremlin said there are "no concrete plans" yet for a summit to take place between Putin and U.S. President Joe Biden.
Gas prices have been volatile amid the geopolitical tensions. The White House had accepted a French proposal for the talks on the condition that Russia doesn't invade its neighbor. That had raised fresh hopes of a diplomatic solution to the tensions. Russia has repeatedly denied it plans to invade Ukraine.
Foreign Minister Sergei Lavrov said Russia wants to "understand what these summits would result in."
The impasse has been affecting prices of everything from energy, metals and food to equities. Gas markets particularly remain on edge as flows through Ukraine are a linchpin in Europe's energy security, with about a third of Russian supplies typically coming through the country.
"The past week was marked by conflicting dynamics, with efforts to both prepare for conflict but also extend diplomatic efforts," analysts at UBS Group AG wrote in a note. "A durable breakthrough" may be unlikely in the coming days, they said.
Dutch front-month gas futures, a benchmark for Europe, fell 1.4% to 72.70 euros a megawatt-hour as of 5:03 p.m. in Amsterdam. The U.K. equivalent contract was 1.7% lower at 173.58 pence a therm, after declining as much as 5.4% earlier.
Any sanctions impacting Russia's gas supplies would boost price volatility, Wael Sawan, Shell Plc's head of integrated gas, renewables and energy solutions, said Monday. The company, one of the world's biggest liquefied natural gas traders, would look to supply Europe "as and when we can," but "there is an incredibly tight supply-demand market at the moment, so those cargoes aren't freely available."
Gas supplies from Russia, Europe's top provider, have been curbed in recent months amid what the nation's exporter Gazprom PJSC has said were lower requests from its long-term buyers. Robust LNG deliveries, flows from Norway, and warm and windy weather have helped offset the decline in Russian flows and pushed prices down from December's records.
"The situation between Ukraine and Russia will be key to the overall direction of the gas market due to associated risk," said Tom Marzec-Manser, an analyst for European gas and LNG at ICIS. Gas was also under pressure on Monday because of high wind power, which lowers demand for the fuel for electricity generation, he said.
Recommended for you

Denmark asks Nord Stream 2 to help identify object near blast