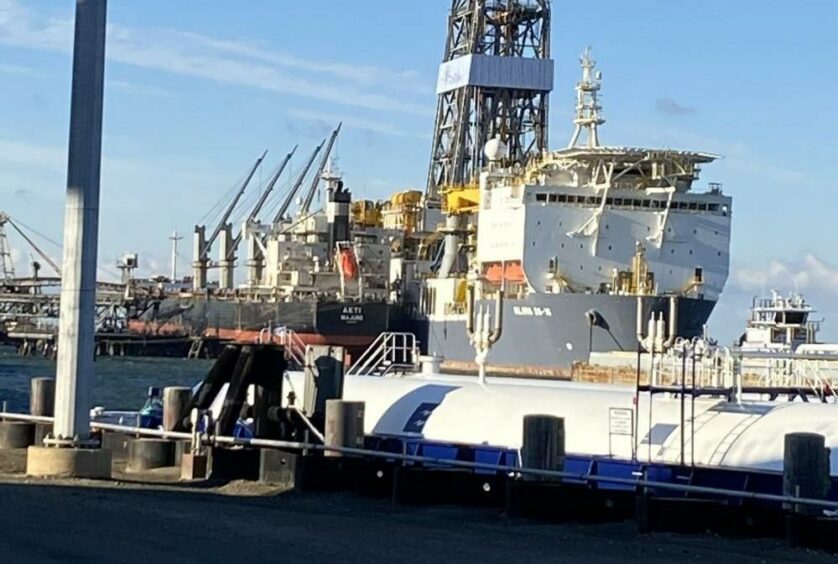 A Valaris drillship has broken free of its moorings and collided with a carrier vessel while docked in Mississippi.
According to local reports, the US Coast Guard was informed of a collision between two vessels at around 1.30am on Saturday 12 March.
The incident occurred in Bayou Casotte, near the ST Engineering Halter Marine and Offshore (STEHMO) shipyard in Pascagoula Mississippi,
The Coast Guard said the 752-ft Valaris DS-16 mobile drilling unit broke free of its moorings in high winds, and drifted into the nearby bulk carrier ship Akti.
During the Coast Guard's response, the drillship was held in place against the Akti by three tugs.
Both vessels reportedly sustained minor damage as a result of the collision, as well as some damage to the pier.
The Valaris vessel is believed to have about 580,000 gallons of fuel onboard, according to the Coast Guard.
On Saturday evening, the DS-16 was moved back to its original mooring on the opposite side of the bayou, while the Akti remained in position.
The Coast Guard said it had sent a pollution prevention team to monitor the situation, and there have been no reports of injuries or pollution as of Sunday evening.
According to Valaris' most recent fleet status report, the DS-16 is currently undergoing reactivation ahead of a two-year contract with Occidental Petroleum in the Gulf of Mexico, beginning in May 2022.
In a March 14 statement, Valaris said: "The rig was promptly secured and safely returned to its mooring location the same day. There were no injuries, no environmental impact and only minor damage to the rig as a result of the event.
"Valaris continues to work closely with the relevant authorities and its customer and does not expect any delays to the contract commencement as a result of the incident."
Another of the company's drillships, the DS-4, broke free of its moorings in high winds off Ayrshire, Scotland, early last year.
The incident prompted a major rescue operation after the ship – which had eight crew on board at the time – began to drift without power. It was later successfully anchored off Hunterston.
Recommended for you

BP takes on Valaris floater for Egypt work