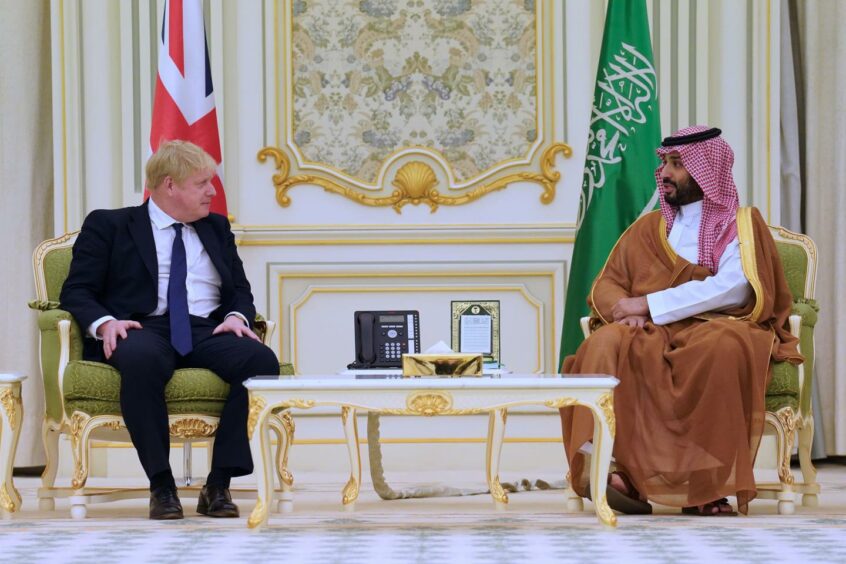 Boris Johnson appeared to win no oil commitments from Saudi Arabia as he defended himself from allegations of going from "dictator to dictator" to find new fuel sources after the Russian invasion of Ukraine.
The Prime Minister said he challenged Crown Prince Mohammed bin Salman on his human rights record during a meeting of about one hour and 45 minutes in Riyadh on Wednesday.
But Mr Johnson refused to go into specifics and insisted the Gulf state was changing for the better, despite announcing further executions in the wake of its largest mass execution in modern history.
He visited Saudi and its neighbour, the United Arab Emirates, while trying to find new fuel supplies to lessen the cost-of-living crisis after the response to Vladimir Putin's invasion of Ukraine.
Mr Johnson, who smiled and warmly shook hands with the Saudi crown prince accused of ordering the assassination of journalist Jamal Khashoggi, insisted closer ties with the kingdom did not mean "we can't stick to our principles".
The Prime Minister welcomed the "very productive conversation" on increasing oil production, currently capped by the Saudi-led Organisation of the Petroleum Exporting Countries (Opec).
"A lot of agreement that it's important to avoid inflation, to avoid the damaging economic consequences, an agreement that we need to work together to bring peace to Ukraine," he told broadcasters.
But pressed if he had won a decision on increasing supply to reduce the shock of the West moving away from Russian fuel, he said: "I think you need to talk to the Saudis about that."
Conservative MPs and human rights watchdogs were among those calling on the Prime Minister to question the Gulf states on their track records, after Saudi Arabia on Saturday executed 81 people convicted of crimes ranging from killings to belonging to militant groups.
The state-run Saudi Press Agency announced three more individuals had been executed on the day of Mr Johnson's visit.
He told reporters: "I always raise human rights issues, as British prime ministers before me have, some time after time. It's best if the details of those conversations are kept private, they're more effective that way.
"But I think you can also see that in spite of that news you've referred to today, things are changing in Saudi Arabia, we want to see them continue to change. And that's why we see value in engaging with Saudi Arabia and why we see value in the partnership."
He declined to say whether he expressed displeasure at human rights abuses, instead saying: "I expressed the longstanding view of the UK Government as you would expect."
Recommended for you

Can oil ever be green? Norway turns to wind-powered drilling