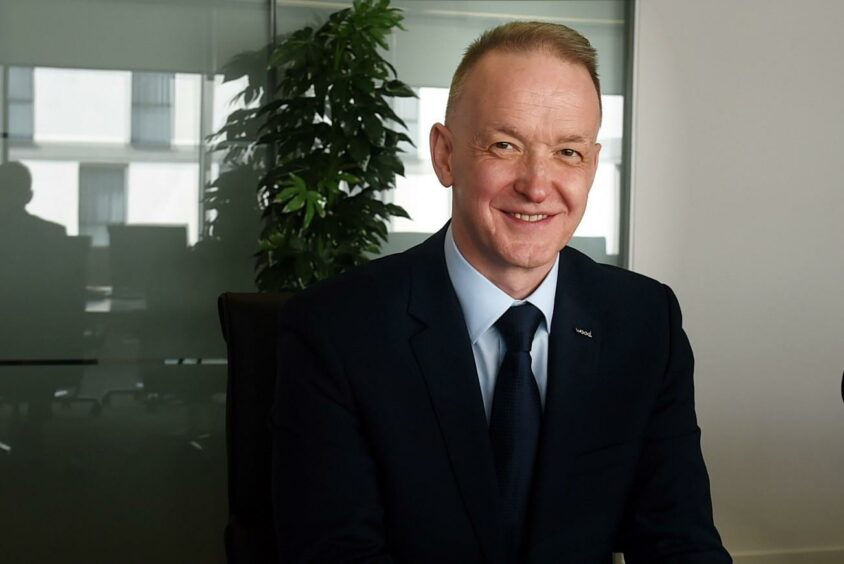 The outgoing CEO of Wood, Robin Watson, believes the energy services giant is on course for a "phenomenally positive" future as he prepares to step down.
It was announced on Wednesday that Mr Watson would retire from the Aberdeen-headquartered company after seven years in the hot seat.
It is something he has been "thinking about for some time" and is a decision that was "not taken lightly".
Mr Watson, who has spent 10 years on the board of Wood, will remain in the role until a successor is found, expected later this year.
Speaking following the announcement, he was keen to stress that he is "not going anywhere yet" as he works to get the sale of the company's Built Environment business wrapped up.
Doing so would provide a "milestone" to close on, he added.
Mr Watson said: "We've still got a bit of business to deliver and I do want to get that Built Environment sale over the line and ensure a good handover with my successor."
Looking ahead to his retirement, Mr Watson says it will afford him time to focus on his non-executive roles, including his position at the Institute of Directors.
He is also involved in academia and has a number of charity interests alongside his wife.
"There is going to be plenty to be doing," Mr Watson said, "and there is a lot of interesting stuff – I am innately curious about things."
But all those future interests remain "on the backburner" while he sees out his remaining time at Wood.
Reflecting on his time at the company, he says he is "really proud" of what has been achieved in recent years.
When Mr Watson joined Wood it was "entirely an upstream oil services business" and "heavily reliant on the North Sea and Gulf of Mexico".
Around 60% of the company's revenue was also split across just "half a dozen clients".
Since then the company has broadened its offering, and it is now engaged in a range of energy transition activities.
He said: "We're in the right end markets; we've got a wind, solar and minerals processing business and a hydrogen, carbon capture and bio-refining business, both of which are really relevant to the low carbon systems of the future.
"We've still got our conventional energy business and we're working both ends of that, from a security and sustainability perspective.
"I'm really proud of what we've achieved with regards to the markets we're in, the capability we've got, the track record we have as a business and the great people we employ. The future for Wood is a phenomenally positive one."
Prior to his current role, Mr Watson led Wood's PSN division and held management positions at firms including Petrofac and Mobil Oil.
Chairman Roy Franklin said: "On behalf of the Board, I thank Robin for his years of service to the company. Under his leadership, Wood has transformed into a global consulting and engineering business that operates across a wide range of energy and industrial markets worldwide.
"Robin has built a strong leadership team around him and a solid portfolio that provides us great opportunities as we look ahead.
"A search process is now underway, with both internal and external candidates, and we are confident a smooth transition will follow later this year."
Built Environment sale
Mr Watson said the planned sale of Wood's 7,000-employee Built Environment business will mark the "start of the next strategic phase" for the business, marking an appropriate time for him to step down.
Publishing its full-year results for 2021 today, Wood said the sale process is progressing well, with an agreement to be announced in late Q2.
The division accounts for 23% of overall revenues and 7,000 people globally; around 6,000 in the US and Canada and the remainder largely in the UK.
Wood reported revenues of $6.4 billion in 2021, down 15.4% on 2020;s $7.56bn, while pre-tax losses totalled $80.6m, cutting down on a loss of $148.6m the prior year.
Net debt stood at $1.4bn as of December 31, 2021, up from $1,014 at the end of 2021, reflecting negative free cash flow in the year.
Mr Watson said 2021 was a "challenging year for the Group, with the ongoing pressures of the pandemic, mixed market conditions across our businesses and continued challenges in Projects impacting our performance".
Despite this, the firm's order book increased 19% year-on-year from $6.5bn to $7.7bn.
Conventional Energy, including upstream and midstream oil and gas, accounted for 38% of group revenues, followed by Built Environment (23%), Renewables and Other (22%) and Process & Chemicals (17%).
Wood has previously stated its plans to exit Russia, accounting for 1% of revenues.
Meanwhile the full-year results were delayed due to a review of its Aegis Poland defence contract – which saw the firm take a $99m exceptional charge.
Wood said it expects higher revenues across its business in 2022, but the sale of Built Environment will have a significant impact on its results so it is not issuing detailed financial guidance.
Mr Watson added: "I have shared with the Board that I consider the sale of our Built Environment business as marking the start of the next strategic phase for Wood and an appropriate time for me to step down as Chief Executive.
"I look forward to continuing to serve on the Board until my successor is in place and I remain fully committed to our business delivery and enabling a smooth transition."
Recommended for you

NEO Energy names Nexen veteran as new CEO