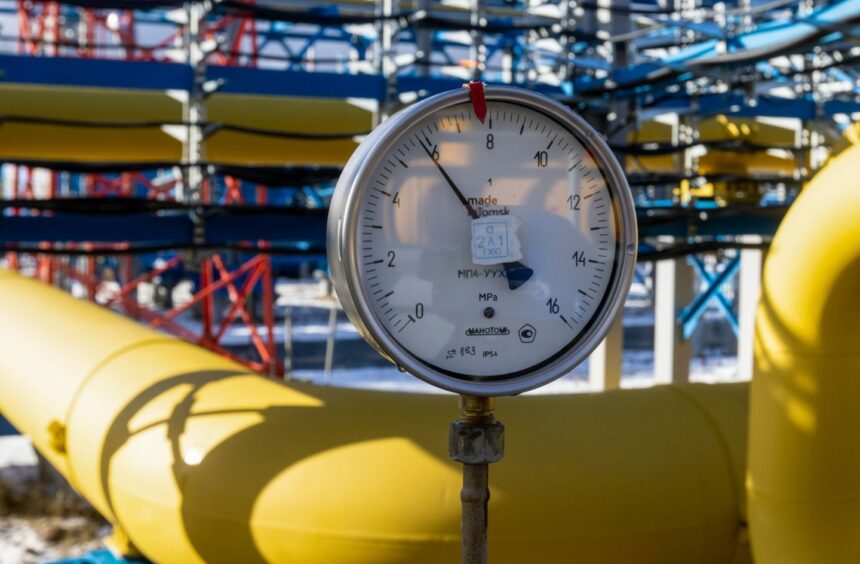 Ukraine has cited "force majeure" to potentially halt a third of Russian transited gas flows to Europe from Wednesday, while Russia's Gazprom claims there have been no issues that would justify the move.
Gazprom has received no confirmation of force majeure or any obstacles to continued transit of gas through a junction in Lugansk Region, the company said on Tuesday, after Ukraine's operator OGTSU announced it would halt further deliveries starting May 11, due to the presence of "Russian occupiers," reported Russia Today.
Gas Transit Services of Ukraine (OGTSU) declared force majeure on Tuesday, saying that it was impossible to continue the transit of gas through a connection point and compressor station located in the Lugansk area.
Ukraine won't accept gas at Sokhranivka, one of two cross-border points handling Russian flows, from 7 a.m. local time Wednesday after occupying forces disrupted operation at the compressor station, Ukraine's Transmission System Operator said in a statement on its website. It's still possible for gas to be rerouted to the second entry point, Sudzha, allowing European contracts to be fulfilled, it said.
However, it wasn't yet clear if a decision has been made to re-route flows.
Sokhrankovka accounts for almost a third of the Russian gas that transits through Ukraine to Europe – up to 32.6 million cubic meters per day – according to the operators.
Gazprom has received no confirmation of force majeure or disruption of operations at Sokhranovka or Novopskov, company spokesman Sergey Kupriyanov said on Tuesday, reported Russia Today. He added that Ukrainian specialists have had full access to both facilities all along, and there had been no complaints about it previously.
Kupriyanov also reportedly said that Gazprom has been notified by Ukraine's gas company Naftogaz that if Russia continues to supply gas through Sokhranovka, Kiev will reduce the volume at the point of exit by the same amount, effectively confiscating the gas.
While OGTSU has proposed to reroute the gas to Sudzha, a connector located in the Sumy region and controlled by the Ukrainian government, Kupriyanov said this was "technologically impossible."
European Gas Prices Jump
European natural gas futures reversed earlier losses Tuesday, after Ukraine's network operator warned about risks on Wednesday to transit flows from Russia.
The benchmark front-month contract jumped as much as 8.1% on the news as traders remain on edge, even though prices have eased recently due to a steady stream of liquefied natural gas (LNG) and warm weather. Russia supplied about 40% of the European Union's gas demand last year, and about a third of that transited Ukraine, making it a linchpin in the continent's energy security.
Muted gas demand in China, strong inflows of liquefied natural gas into Europe, and mild spring weather have been keeping European prices in check recently. Yet, risks disruptions due to the war in Ukraine still dominate the market.
"European gas prices will retain this geopolitical risk premium for the foreseeable future," Stifel analysts Chris Wheaton and David Round said in a note earlier on Tuesday. Gas prices could remain high through the rest of 2022 and 2023, they said.
Dutch month-ahead gas, the benchmark for Europe, settled 5.4% higher at 98.80 euros per megawatt-hour, following two consecutive sessions of declines. The U.K. equivalent rose 13%.
Recommended for you

Trafigura signs $3 billion German-backed loan for gas supply