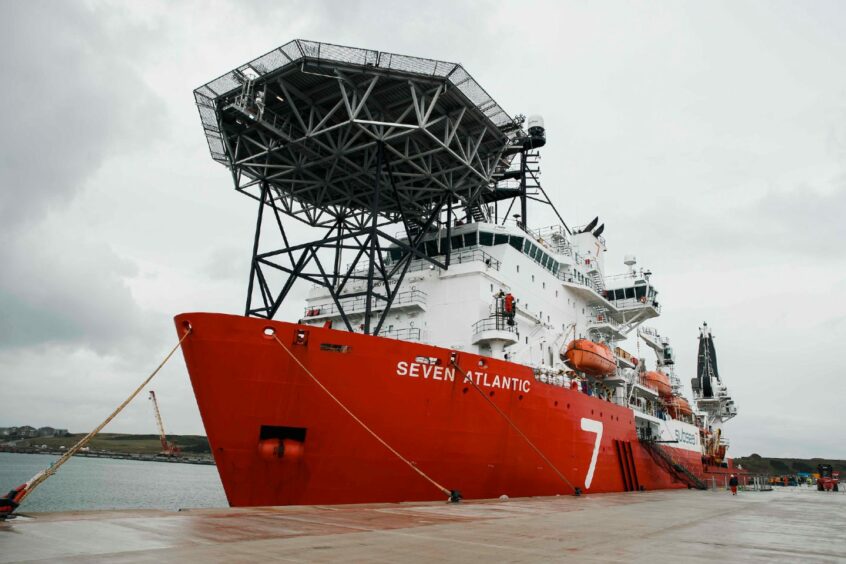 The Port of Aberdeen welcomed the first commercial vessel to its new south harbour on Saturday, as construction of the £400 million expansion project continues.
Subsea 7's Seven Atlantic dive support vessel safely berthed at Dunnottar Quay to change over the crew, offload project equipment and stock up on provisions after completing inspection, repair and maintenance work for North Sea oil and gas company, EnQuest.
The vessel will return to south harbour later in the month for annual routine maintenance.
Milestone for new harbour
Port of Aberdeen project director Keith Young said: "This is an important milestone for the project and a reflection of the hard work and collaboration from everyone involved.
"We are focused on being fully operational by the end of October and ensuring new and existing customers benefit from this world-class facility."
The Seven Atlantic's arrival marks a "soft start" to operations at south harbour, which can now accommodate vessels at a complete section of Dunnottar Quay which is 1,300 ft (400m) long, 100 ft (30m) wide and has a berth depth of 35 ft (-10.5m).
Port of Aberdeen bosses said the development is on track for its official opening and will be operational by the end of October 2022.
Dunnottar Quay, Crathes Quay and Castlegate Quay will be complete and available to port users at that point.
However, construction of the major port expansion project will not conclude until May or June next year when the remaining Balmoral Quay is brought into service.
Harbour bosses decided to reintroduce the west quay to the South Harbour plan after it had been dropped during the pandemic.
New south harbour key part of bid
The expanded Port of Aberdeen is a key player of the North East Scotland Green Freeport bid, which is expected could create up to 32,000 jobs, boost GVA by £8.5 billion and transform the region into the "net zero capital of Europe".
Port of Aberdeen chief executive Bob Sanguinetti welcomed the arrival of the vessel.
"The £400 million port expansion will transform our capabilities, help to develop high potential sectors, such as offshore wind and green hydrogen, and unlock growth in the trade and maritime sector.
"South Harbour is an asset of national strategic significance for the Scottish and UK
Governments.
"Green freeport status for north-east Scotland is essential if we're to maximise
the economic benefit of the project for the local community and the national economy."
Alan Black, projects and operations director for Subsea 7, said the firm was "honoured" to be the first commercial vessel in the new harbour.
He said: "The scale, breadth and depth of the South Harbour facilities creates sustainable efficiencies for our vessel operations and ensures Subsea 7, along with the local supply chain, continue to support the offshore energy sector in Scotland and the wider UK as we transition toward net-zero."
Recommended for you

Offshore wind a chance to 'reverse multi-generational' Highlands skills exodus