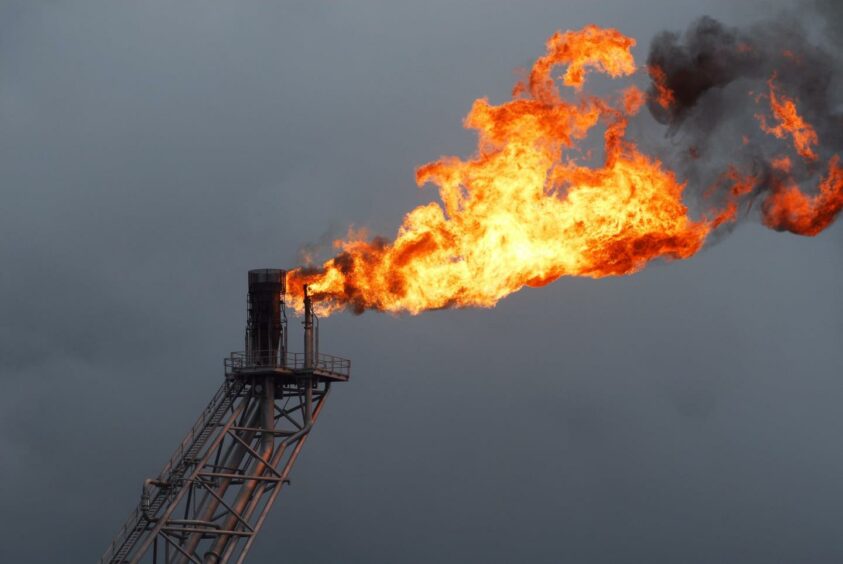 Tackling methane emissions should be an easy way to make progress in tackling climate change – and point to how willing the energy industry is to the energy transition.
Reducing methane emissions is the "most efficient and cost effective way to tackle climate change in the short term", said United Nations Environment Programme (UNEP) Manfredi Caltagirone, speaking at Adipec. "The oil and gas sector has the highest potential to capture these emissions."
Progress is not coming fast enough, even while the topic attracted substantial attention at Adipec and the ongoing COP27.
The Global Methane Pledge, launched at COP26, calls for a reduction of 30% by 2030. This would reduce temperature rises by 0.2 degrees Celsius in 2040-70.
The Climate and Clean Air Coalition (CCAC), at COP27, said that business as usual would see emissions rise by 5-13% by the 2030 target. CCAC launched the Oil and Gas Methane Partnership (OGMP) 2.0 with UNEP.
Natural gas does not linger in the atmosphere as long as CO2 but is more potent, with more than 80 times the warming power in the first 20 years.
"Methane emissions determine the rate of change. If we're concerned about the next 20 years about the impact of climate change, methane will be the key determinant," EDF chief scientist Steven Hamburg said.
COP talk
US President Joe Biden set out a plan in Egypt to deploy $20 billion in new investments to reduce emissions. While emissions can come from a number of areas, oil and gas is easy to point the finger at – and relatively straightforward in tackling.
The US government has said its oil and gas sector is its largest industrial source of methane emissions. Research from earlier this year by the Environmental Defense Fund (EDF) found 30 "super emitting" sites in the Permian Basin, releasing around 100,000 tonnes per year of methane.
The US recently announced plans to work with Pemex to tackle emissions in the near term.
UNEP also launched a new methane monitoring system at an event in Egypt. The Methane Alert and Response System (MARS) "is a data-to-action platform", the organisation said.
MARS will have an initial focus on the energy sector, but will expand to cover other areas such as coal, waste and livestock. Data from the system will inform stakeholders of emission events and then support action taken to tackle these.
The European Space Agency (ESA) said its Sentinel-5P satellite would be crucial to carrying out this work. The satellite is providing daily measurements of methane across the world.
The Sentinel-5P will provide broad coverage of the world and, should it find cause for concern, the Sentinel-2 wil provide higher-resolution data.
MARS is not the only game in town. Climate TRACE debuted a facility level inventory of more than 65,000 sources of emissions this month. It aims to provide comprehensive data cover all major sources in the future.
Improved visibility
EDF's Hamburg noted that monitoring of emissions was improving. The International Methane Emissions Observatory (IMEO) brings in data from remote sensing, to studies, to voluntary emissions data from companies.
"We can see what's happening, where's the improvements, where it's not happening," Hamburg said. This is a marked difference from 2010, "when we had none of this data. We really didn't understand methane sources and its contribution."
This growing picture gave the EDF official confidence that companies could take the action required.
"We need to reduce global methane emissions by at least 30% by 2030, to keep 1.5 degrees C alive, said Marcelo Mena, CEO Global Methane Hub. MARS "can enable the identification and rapid response to major methane emissions from the energy sector", Mena continued.
UNEP's Giulia Ferrini pointed to the energy sector's ability to make progress. The sector could cut its methane emissions by 75% by 2030, with half of these reductions coming at no additional cost, she said.
Better counting
UNEP has put total methane emissions from industry at 80-140 million tonnes per year, based on published studies. However, OGMP 2.0 companies have reported emissions of just 1.3mn tpy.
UNEP has attributed this discrepancy to a lack of measurements on a majority of assets. Furthermore, OGMP 2.0 members do not report emissions from facilities they do not operate.
Caltagirone acknowledged the discrepancy, but said it was not particularly surprising. "The level of reporting that companies have is still increasing", he said.
Most company reporting is based on estimates with some measurements, the UNEP executive continued. "Clearly this needs to improve in the next two years."
To reach the "deep level" of methane emission reductions, Caltagirone said, "we need better information about where emissions come from".
The UNEP official was keen to stress, though, improvements in the knowledge base. He gave the example of flaring. It had been thought that burning methane in flares consumed as much as 98% of the gas. A recent study showed that the 98% figure was an assumption.
Actual emissions are "much higher. They average 91% efficiency – much lower than expected. If you didn't have this information, you may assume flaring was not an issue. We know it is an issue."
Using knowledge
There are signs that companies are paying attention. Adnoc, for instance, has set a new upstream methane intensity target of 0.15% by 2025. This would be the lowest emissions in the Middle East, it said, and would see the company gain a Gold Standard under the Oil and Gas Methane Partnership (OGMP) 2.0.
Adnoc executive director for technology Abdulmunim Saif Al Kindy said the company aimed to reduce methane intensity while meeting energy demand growth.
"We will do this by making significant investments in new technologies to improve our environmental performance, strengthening our commitment to responsible production and demonstrating our support for the UAE's Global Methane Pledge," he said.
Adnoc said it would use various technologies to identify emissions, including hand-held infrared cameras, satellite monitoring and drone sensors. The company is also taking steps to monitor emissions through blockchain reporting, with Siemens Energy.
Progress from companies on tackling emissions is welcome – but it is not just a nice to have. As the world raises the prospect of tighter controls on emissions, for instance through carbon border adjustment mechanisms, companies will have to compete by demonstrating their progress.
Recommended for you

COP27 activists pursue Pouyanne over Russia "blood money"