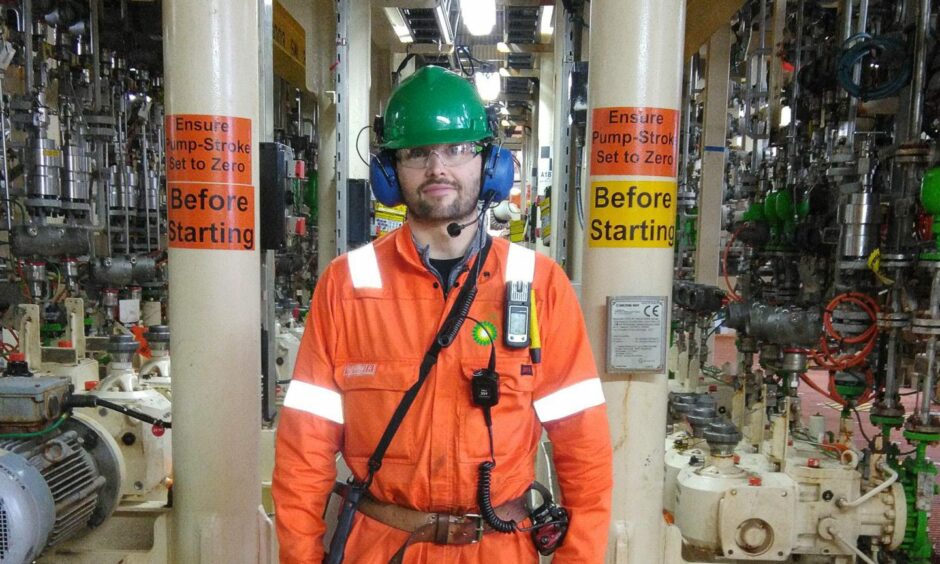 OPITO has named ex-gymnastics coach, Colin Ross, its apprentice of the year following his work in the North Sea with BP (Lon: BP).
The 28-year-old is now in his third year as a process operations apprentice, working offshore on the Glen Lyon FPSO.
Ross made the jump from training gymnasts to working in the North Sea to achieve a better work-life balance, he has said he looks to spend more quality time with his family.
The former gymnastics coach from East Kilbride, says he has always had an interest in the energy industry but lacked experience.
"With no experience, an apprenticeship programme felt like the best route to take," said Mr Ross.
'age doesn't matter'
The apprentice of the year was advised to take part in the OGTAP training scheme by his friends and family that already work in the energy sector.
The training course is one of the UK's largest industry-led apprenticeship initiatives, managed by OPITO and the ECITB.
Mr Ross said:  "It's cheesy and everyone says it, but I really am honoured to receive this award.
"I know the high-quality of people completing this course with me, and being recognised out of my 74 peers is a real boost and reminds me that I'm heading in the right direction.
"You can't do the practical without having the theoretical knowledge. That's why an apprenticeship works so well – you get that blended understanding.
"The instructors at ASET International Energy Training Academy were extremely experienced industry professionals and being able to draw on their experience, both technical aspects and life offshore, was a real highlight."
Colin concluded: "On the OGTAP programme, age doesn't matter – it's about you as a person. It's one of the best decisions I have made, the apprenticeship is second-to-none – people should just go for it."
'I look forward to seeing what the future holds for Colin'
Offshore installation manager (OIM) on BP's Glen Lyon FPSO, Ryan Monteith, said: "Since joining the Glen Lyon, Colin has integrated seamlessly into the team, demonstrating his capability and diligence to both peers and leaders.
"Settling into an offshore team can sometimes take a while, but Colin has adapted at pace, using every opportunity that presents itself to boost his OPITO portfolio.
"His talent and can-do mentality make him a great addition to the Glen Lyon team, and I am pleased that his hard work has been recognised with this award.
"I look forward to seeing what the future holds for Colin."
The OGTAP scheme has brought around 2000 young people into the oil and gas industry since its inception in 1999.
Focusing on four key disciplines: electrical maintenance; mechanical maintenance; process operations; and instrumentation and control, the course provides the fundamental qualifications required for technical roles in oil and gas, renewables, and associated sectors.
Apprentices attend an industry-selected college for 21 months to gain the required qualifications before spending two years with a sponsoring energy company.
During these two years, the participants gain industry experience while working towards an SVQ Level 7 in their chosen discipline.
Modern apprenticeship scheme manager at OPITO, Scott McDonald, added: "Apprentices are a crucial part of our workforce who will help us deliver a safe, secure and reliable energy supply as we move towards a low carbon future.
"We at OPITO would like to congratulate Colin on winning Apprentice of the Year, as well as the three finalists.
"Each year one candidate is nominated by their respective from each discipline (Electrical, Mechanical, Instrument and Control and Process) and every nominee should feel immensely proud of their achievement.
"Colin, an exceptional apprentice in college, has gone to his worksite and continued to impress with his efforts and work ethic.
"While still at the beginning of his career, I am sure Colin has a bright future ahead of him within the energy industry.
"OPITO is very much looking forward to watching him progress as he continues his apprenticeship with BP."
Applications for the 2023 OGTAP programme will open in early 2023.
Recommended for you

BP fined £650,000 over death of worker who plummeted from North Sea rig