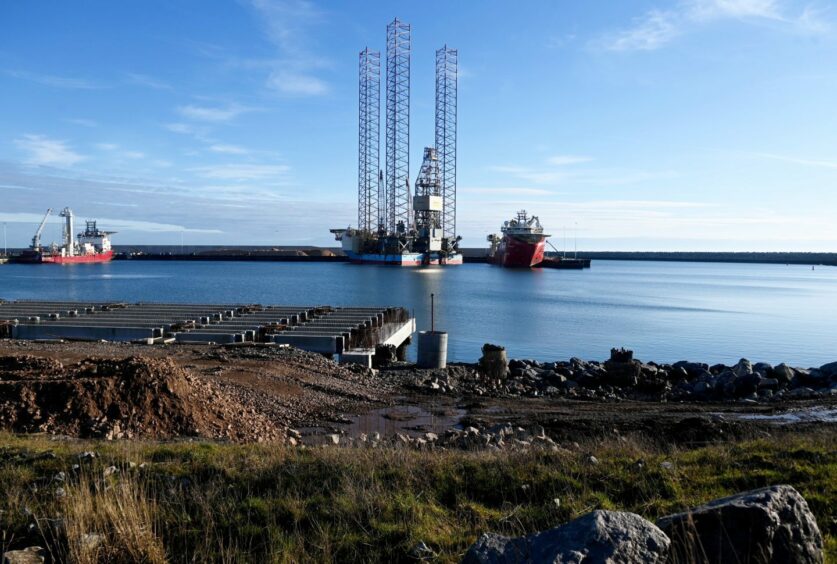 The Noble Innovator has been the talk of the town since it came to the new South Harbour on Saturday – but what does it mean for Aberdeen?
Roddy James, chief commercial officer at Port of Aberdeen said the arrival of the rig for major maintenance work is "a great win for the Aberdeen area and the whole of the north east because it really means we can start to do projects like this".
"This is very much linked to getting all of the supply chain involved, projects of this ilk are worth certainly seven figures, if not eight, for what's on our doorstep here in Aberdeen, so it it's fantastic to see."
Mr James says "it's about securing jobs for the north east."
Despite sites located overseas and closer to home, such as Rotterdam and Dundee, having more experience with the sort of work being carried out on the oil rig, Mr James says that the goal is not to compete with these established sites.
"It's not really competition," the Port of Aberdeen boss says, "What we're doing here is similar but we're utilising the supply chain here in Aberdeen."
The Noble Innovator will be docked at the £400 million Aberdeen South Harbour while maintenance work is carried out for between 60 and 90 days.
The new multi-million-pound expansion to the harbour also allows cruise ships and cargo vessels to make stops in the Granite City.
From Aberdeen, the vessel will head back into the North Sea to complete some decommissioning work for the energy major BP (LON: BP).
However, this new harbour will not be home to just rigs, as Mr James explains: "It's not about the number of rigs. We also have the cruise industry. We also have general cargo as well as the subsea decommissioning market so it's making sure we have the facilities for all of those.
"We're not filling it up with a certain type of vessel. The design of the port is to suit lots of different types to allow us to be in all of those different markets."
That being said, now that the people of Europe's oil capital have seen an oil rig up close Aberdonians can expect to see more in the future.
The harbour boss said: "I think over the next few months and certainly over the coming years, we'll see a shift to vessels of this type because we're able to facilitate it.
"The whole offshore renewables piece, a lot of the vessels will now be looking at these types of vessels for the installation of the wind industry and also the decommissioning market, again that's a whole market that's really kicking off in the North Sea at the moment."
Vessels such as the Innovator, may become a common sight on the north east coastline, however, others will likely not rival the 200-metre-plus height of the innovator.
"She's probably one of the largest we'll see, height-wise, but we can have other vessels that are longer or deeper but from a height perspective we probably won't see anything taller than that."
Recommended for you

Island Innovator rig en route to UK to begin work imminently for Dana Petroleum