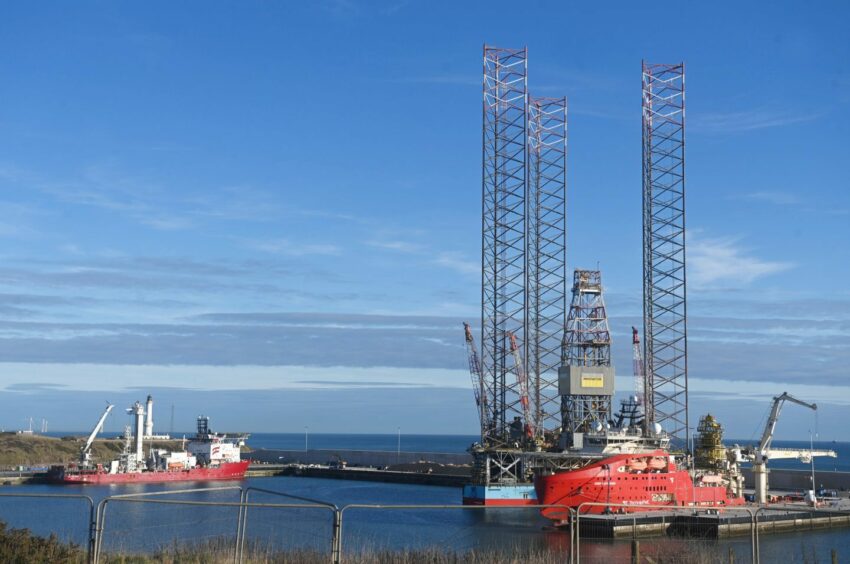 A huge oil rig, sporting legs more than 200 metres in height, has become the largest ever vessel to visit the Port of Aberdeen.
The Noble Innovator jack-up oil rig arrived at the Granite City's new multi-million pound South Harbour on Saturday, ahead of beginning work for BP (LON: BP) later this year.
At the same time, the Ocean GreatWhite, the world's largest semi-submersible rig, is making its way to the West of Shetland to carry out drilling work for the oil giant.
The arrival of the two rigs will deliver a much-needed boost for UK drilling contractors, amid concerns about units and equipment leaving the North Sea for fairer shores.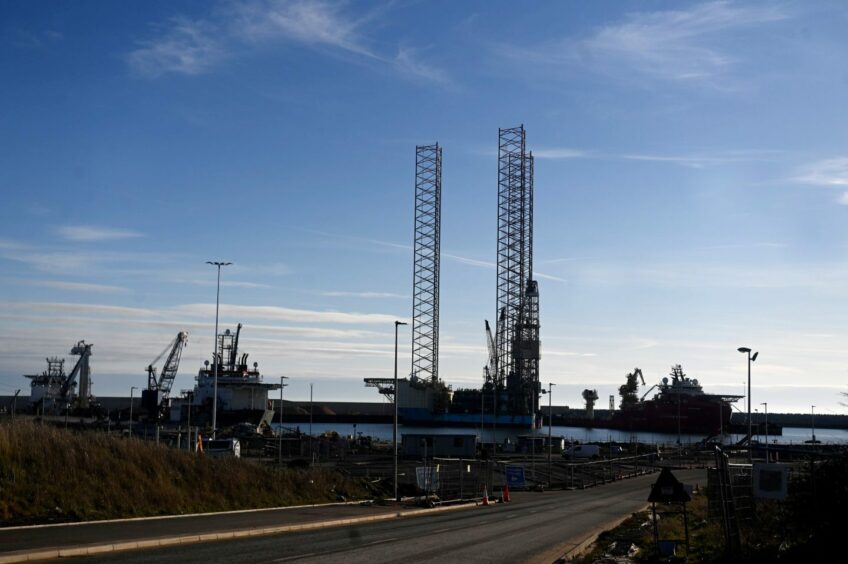 Port of Aberdeen ambitions a reality
It also comes just days after port bosses declared their ambition for the new South Harbour to become a leading location for jack-up maintenance.
Such vessels are common in the likes of Dundee and the Cromarty Firth, but despite being the oil capital of Europe, Aberdeen could not previously accommodate them due to water depths.
The Noble Innovator will spend between 60 and 90 days in the new £400 million Aberdeen South Harbour while maintenance work is carried out.
Once complete, it will go on contract with BP, carrying out decommissioning work in the Central North Sea.
Port of Aberdeen says the maintenance work scope will benefit the city's economy and create jobs in the region through a "multi-million pound investment in local contract awards".
Selected vendors will support the upkeep of the Noble Innovator, with deals for diving, welding, inspection, painting, scaffolding, accommodation, catering and logistics, amongst other things.
Operations at South Harbour are now "well underway", Port of Aberdeen said, with "very high utilisation" of berths and the operational quayside areas to date.
Construction work on the facility is on course to wrap up by the end of June, which will make the Granite City the "largest berthage port in Scotland".
A first for Noble
Roddy James, chief commercial officer, Port of Aberdeen, said: "It's exciting to welcome new types and sizes of vessels to the port, be that from oil and gas, renewables, cargo, or cruise. South Harbour's tidally unrestricted deepwater berths, extensive laydown space and heavy lift capacity, make Aberdeen an attractive option for larger vessels.
"The expanded Port of Aberdeen, across North Harbour and South Harbour, now offers customers even greater flexibility for their projects, with a focus on reducing risk, adding value, and minimising cost."
Claus Bachmann, VP of Operations, Noble Corporation, said: "We are excited that the new South Harbour facilities have made it possible for one of our rigs to visit Aberdeen for the first time ever.
"The Noble Innovator is stopping by for a so-called special periodic survey which rigs must undergo every five years to ensure that we are able to operate safely, and which will involve multiple local suppliers in the extensive maintenance scope."
On the other side on the country
Meanwhile, Diamond Offshore's Ocean GreatWhite vessel is currently headed north from Kishon Port to carry out drilling operations on BP's Schiehallion and Loyal fields.
The 60,000-tonne vessel arrived on the west coast in October.
Wells drilled by the mammoth rig will be hooked up to the Glen Lyon floating, production, storage, offload (FPSO) vessel, helping to sustain BP's production in the region.
It was announced last year that the Ocean GreatWhite had been awarded a five-well deal, with options for another eight if needed, over 300 days – the contract is worth around $80 million.
Doris Reiter, senior vice president, BP North Sea, said: "The business decisions BP is taking today continue to positively impact the economy of Aberdeen, as they have for nearly 60 years.
"Our contract with Noble supports the supply chain to seize opportunities on our doorstep and demonstrate its world-class decommissioning capabilities."
"Separately, our contract for the Ocean Great White will support our west of Shetland activity in 2023, including around the Schiehallion and Loyal fields, with wells to be connected to the Glen Lyon floating, production, storage, offload (FPSO) vessel. Investment such as this around existing North Sea hubs helps to sustain production of home-grown oil and gas."
A rig-naissance
BP's contracting of the two rigs is a welcome pick-me-up for the North Sea drilling sector.
Contractors recently headed to Westminster to make the case for stable and continued investment in the basin to government.
Representatives from the North Sea chapter of the International Association of Drilling Contractors (IADC) met with MPs to underline fears that successive windfall taxes and a lack of UK offshore activity could spark an exodus of drilling units from the region.
Katy Heidenreich, supply chain and people director at trade body Offshore Energies UK (OEUK), said: "OEUK is always pleased to see increases in investment or activity that benefit the North Sea, its supply chains and energy security. We are concerned that many contractors and investors are rattled by continuing fiscal uncertainties for the sector.
"BP's work to bring these rigs to UK waters is some positive news for our many thousands of on and offshore workers. These rigs are also masterpieces of modern engineering of which we should be proud. The work they do will help to underpin the UK's decommissioning capabilities and ensure continued production of home-grown energy."
Recommended for you

West of Shetland: The projects in the UK's oil and gas hotspot