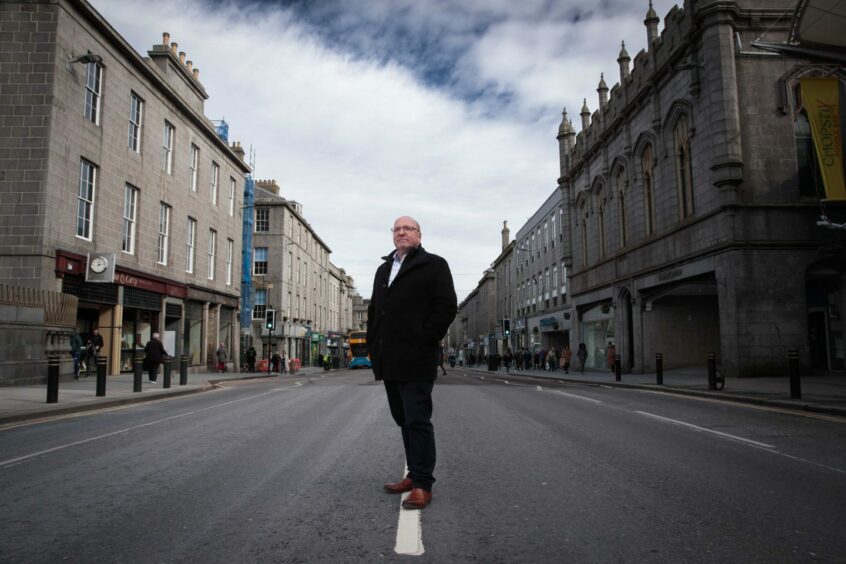 Could Bob Keiller be the man to save Union Street?
Arresting the years of decline that have left Aberdeen's once-proud Granite Mile a shadow of its former self isn't a task the businessman takes lightly.
But Bob is nothing if not determined.
He tells us: "If somebody like me doesn't step forward, then who does?
"It's a massive challenge… And there's lots of voices out there who are hugely critical of anything like this.
"Who in their right mind would get involved with this?
"But if I don't do it, who does do it?"
Bob is heading up Our Union Street, the new campaign set up to give the city centre a much-needed boost.
But what is it about the 59-year-old business stalwart that could make him the ideal man for the job?
From paper round to royal honour…
Bob Keiller's business achievements were highlighted when he was made a CBE in the 2017 Queen's Birthday Honours.
And he was "chuffed" when he received an honourary doctorate from Edinbugh's Napier University last summer.
This must all have felt like a long way from his first foray into the world of work: doing the local paper round while growing up on a council estate in Jedburgh,
What were Bob's business career highlights?
The Aberdeen and Grampian Chamber of Commerce and Asco chairman is a former chief executive of Aberdeen-based engineering firm Wood.
He was also chairman of economic development agency Scottish Enterprise.
During a high-profile career in oil and gas, Bob created energy services firm PSN through a £236 million management buyout from Halliburton, in 2006.
He was then at the heart of the £606m sale of PSN to Wood in April 2011.
After that, he reigned as Wood's chief executive from November 2012 to December 2015.
Towards the end of that spell he was inducted into the Entrepreneurial Scotland Hall of Fame.
Efforts to inspire enterprise
Following his exit from Wood, he launched Aberdeen-based consultancy AB15 to pass on some of his entrepreneurial wisdom to others.
Another award arrived in 2018 when he was named "icon of the year" in the Barclays Entrepreneur Awards.
Since then, he has been doing his best to motivate others.
As part of this, he was instrumental in bringing TEDx talks to Aberdeen, with the first event taking place in 2021.
Could Linkedin connections help Bob Keiller to boost Union Street?
Bob is also something of a social media influencer, with more than 160,000 followers on Linkedin.
Those contacts, he tells us, could come in handy when attracting businesses to Aberdeen.
Why was Bob chosen to lead Our Union Street?
The partnership behind the initiative needed a "unifying figure" – and Bob agreed to provide his services for free.
"I want to help because I care – I want Aberdeen to have a vibrant and clean Union Street," he said.
"I have not stepped forward because it sounds easy – I have chosen to get involved because it will be hard."
Bob Keiller on Union Street. Image: AGCC
Time will tell whether Bob is the man to secure Union Street a bright future.
And he freely tells us he is happy to step aside should a better-placed leader emerge.
But for now, Aberdeen city centre needs all the friends it can get – and having a few in high places can't hurt.
Learn more about Our Union Street here.
Recommended for you

RMT union boss Jake Molloy steps down