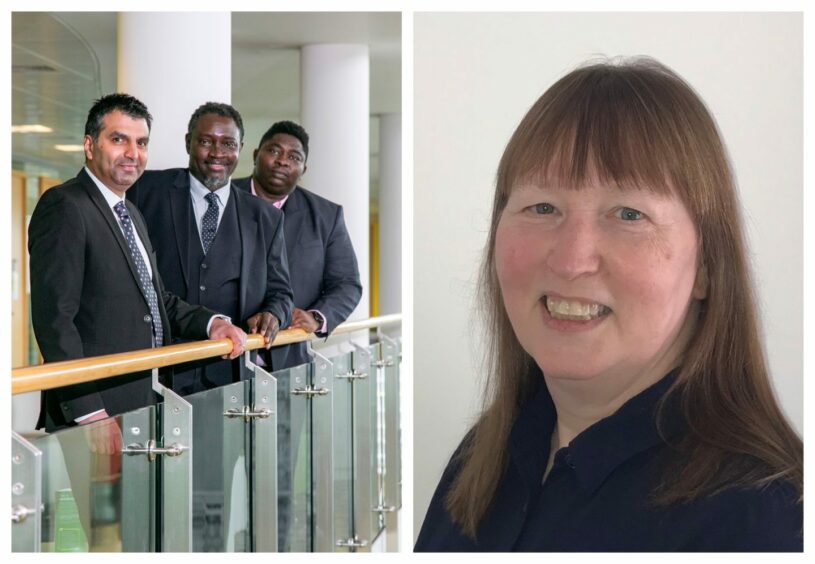 Diversity and inclusion group AFBE-UK has bolstered its advisory board with new appointments.
Dushyant Sharma, vice-president of transformation at BP, joins with more than 20 years' experience in the sector.
With a career spanning locations globally, he works with a variety of mentees across the diversity spectrum.
Dr Carol Marsh, head of digital systems at Edinburgh-based Celestia UK also joins, having won OBE for diversity and inclusion in electronic engineering in 2020.
The advisory board meets the AFBE-UK's executive board twice a year to provide guidance and support.
Dr Ollie Folayan MBE, Chair of AFBE-UK Scotland, said: "We are honoured to have Dushyant and Carol join the advisory board. Dushyant is a leader within an international and diverse energy company, while Carol is a highly-respected figure across industry – both with a mission to effect change. Their work in diversity, equity and inclusion is exemplary and AFBE-UK look forward to gaining a great deal of insight and guidance from them."
Dushyant Sharma, Vice-President Transformation of bp, said: "I am honoured and humbled to have been invited by Ollie and the AFBE-UK team to join their advisory board.
"Diversity, equity and inclusion is not just the right thing to do for people and society at large, but it's also proven to be a business imperative to enable better results. The energy industry faces complex challenges and that requires people from diverse backgrounds to help resolve. AFBE-UK are a great team that can help achieve this, along with ensuring organisations are more reflective of the society in which we live."
Dr Carol Marsh OBE, Head of Digital Systems at Celestia UK, said: "I first met Ollie at an IET Diversity and Inclusion conference in Scotland and I was surprised at the problems ethnic minorities faced in engineering but so impressed with the services AFBE-UK provide to address these problems.
"I'm passionate about engineering and think that everyone should have the right to become an engineer and there should be no barriers to entry. Therefore, it is a great privilege to join the AFBE-UK advisory board and to help them achieve their aims."
AFBE-UK supports young people, particularly those from black and minority ethnic (BME) backgrounds, with career aspirations in science, technology, engineering, arts and mathematics (STEAM).
The social enterprise provides mentoring programmes to support young people from under-represented groups.
Recommended for you

'Pale, male and stale': The North Sea firms with no women on their boards