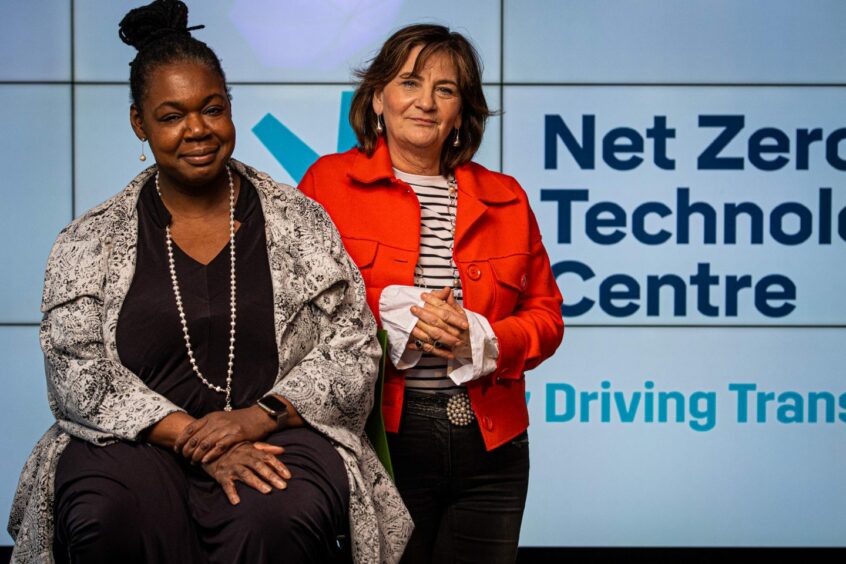 Energy transition pioneer Colette Cohen is to step down as chief executive of the Net Zero Technology Centre (NZTC) after nearly seven years at the helm.
Following a short handover period, she will be replaced by Myrtle Dawes – currently the organisation's solution centre director – who will lead on the delivery of the NZTC's recently adopted strategy.
First put in place around 18 months ago, the blueprint aims to secure the long-term future of the Aberdeen-based technology hub, which rebranded from the Oil and Gas Technology Centre in 2021.
"When the new strategy was launched, I recognised it would need a five-year horizon to deliver, and I knew I wasn't going to be here for that long," explained Ms Cohen, whose CV includes time spent at the likes of BP, Centrica and ConocoPhillips
"I began talking to Martin Gilbert, our chairman, about making a plan in order to begin building in the roadmap, but also putting in an exit plan for me.
"We recognised that Myrtle has all the tools and skills she needs to take the NZTC forward, and following a comprehensive process, we identified her as a successor."
A bumper CV
A chartered chemical engineer, Ms Dawes – like Ms Cohen – began her career working offshore for oil giant BP, before spending time at BHP Petroleum and British Gas-owner Centrica.
She joined the NZTC in 2019, and also holds non-executive positions on the boards of FirstGroup and the Centre for Process Innovation, as well as an advisory role with the Association of Black and Minority Engineers.
Her achievements to date include being selected as one of 100 "women to watch" in the Cranfield FTSE Board Report 2017, as well as recognition from Transition Economist as one of its TE:100 women of the energy transition.
Ms Dawes will formally take up the reins at the NZTC in July, and she has made making engaging with policy makers a key priority.
She said: "I've been working with Colette for a while and she's fantastic founder – she's leaving a real legacy and I'm ambitious to make sure that I can really take that forward.
"It's a very exciting, and challenging, time for the industry, and I think in the last few years we've seen how the push towards net zero has become even louder.
"I've got a lot of passion, and I absolutely love working with the team. I'm 100% behind the strategy that's been put forward, and it's now for us to move forward and to get that delivered.
"For me, it's also key that we're bringing a clear message to both governments about the importance of the transition, and the key role of Aberdeen within that. The city has fantastic skills, teams that know how to deliver big, complex, risky endeavors – that's why we need to anchor a lot of that here.
"There's also a need to be competitive; to select a few things and get on with them – that's where the NZTC can be a big asset."
The end of an era
For Ms Cohen – who launched the NZTC in 2017 with £180 million of UK and Scottish Government funding, secured as part of the Aberdeen City Region Deal – it is the end of an era.
During her tenure, the centre has co-invested more than £253m with industry in technologies ranging from effective well plugging and abandonment, asset integrity to autonomous robotics and renewable power systems.
The organisation has also screened over 1,810 new technologies, progressed 175 field trials, and helped over 33 technologies to commercialise.
Through the NZTC's TechX Accelerator programme, 45 tech start-ups have been supported, with TechX Pioneers raising over £75m in equity since graduating the programme.
But for Ms Cohen, who has been a longstanding champion for diversity and inclusion within the energy industry, it's now "not the time to do Monday to Friday anymore, it's time to do something else".
Boards, family, and golf
She said: "I really enjoy being on some of the boards, and those that I'm a part of are around energy transition, for companies that really want to drive and accelerate change. I'm interested in working with more firms liked that – they also have a really big gender equality challenge, but they want to make a difference.
"Ultimately, I've been running businesses for over 30 years; my husband is retired, and he's been an incredible supporter of mine, so I'm looking forward to spending some time with him. We are both fanatical golfers, so I plan on enjoying a late summer on the golf course in the sunshine.
"It's a fabulous team here in the NZTC, with wonderful people – I'm really proud to leave the company in this state and I'm looking forward to seeing what happens next."
NZTC chairman, Martin Gilbert added: "In an industry that is traditionally slow to change and considerably risk averse when it comes to adopting new technology, Colette had a monumental task on her hands to shape an offering from the Net Zero Technology Centre that industry would buy-in to and advocate.
"A champion for diversity and inclusion, Colette is a formidable leader ensuring the Centre remained relevant as the global focus increased on cutting emissions and low carbon technology. She continued to evolve the businesses strategy and position it for growth and is handing over the reins at an exciting time for the centre. On behalf of the board, I thank her for her drive and commitment."
Recommended for you

Talent and timing: Can Aberdeen's oil and gas skills make the energy transition?