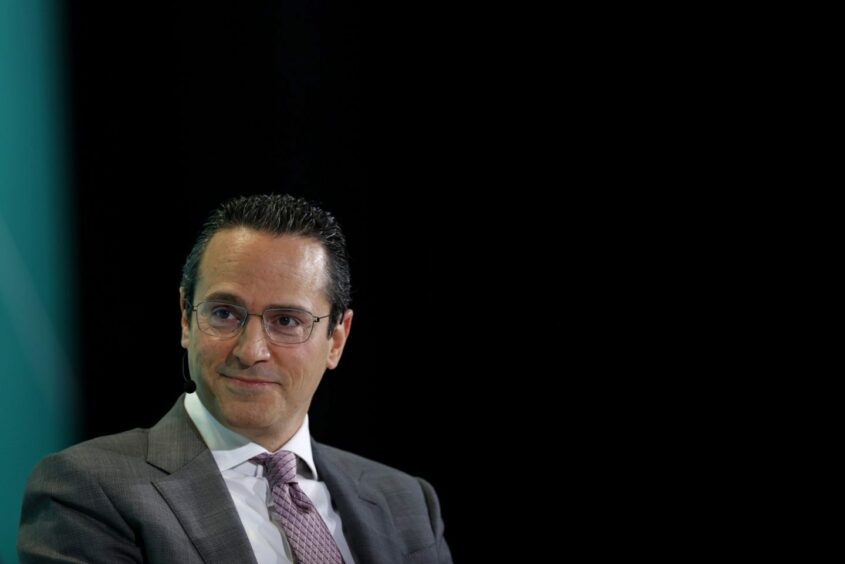 Wael Sawan, the new CEO of Shell (LON: SHEL), is adamant that the oil giant is undervalued compared to its US peers. Now he's heading to New York in an effort to prove it.
At a presentation on Wednesday, Sawan will give investors their deepest view yet on how he will execute his vision for the company: to give better returns to shareholders and close the valuation gap with companies like Exxon Mobil Corp. and Chevron Corp.
To achieve that, Sawan is expected to boost dividends and pivot back toward the fossil fuels that drove record profits last year. That would be another sign of how the American vision of Big Oil's future — which Shell has been encouraged to adopt by activist investor Dan Loeb's Third Point LLC — is winning out.
"Shell has to take a hard look at itself and figure out where are they generating premium returns and where they're not," said Christyan Malek, head of energy strategy at JPMorgan Chase & Co. "In the next 10 years, taking advantage of an oil supercycle could turn out to be the key competitive strength for Shell relative to its European peers."
Here are the key messages to look out for at this week's event:
Dividends
London-listed Shell's generous cash dividends attracted investors for decades, until former CEO Ben van Burden slashed the payout by two-thirds at the depths of the coronavirus pandemic in 2020.
Key among this week's announcements will be what Sawan will do with the payout, which has risen steadily since 2020 but still remains about 40% below its pre-cut level. Shell used its record cash flow last year to buy back billions of dollars its own stock and coupling that with a dividend increase would give investors a clear message.
Shareholder returns are the "elephant in the room," according to RBC analyst Biraj Borkhataria, who expects a dividend increase of 20%. That level could be maintained with oil above $50 a barrel — comfortably below current prices — without having to cut into Shell's budget for capital expenditures, he said.
Back to Basics during Shell Capital Markets Day
Van Beurden was the first Shell CEO to commit to shrinking the fossil fuel business and achieving net zero carbon emissions. Sawan is expected to steer Shell back toward the source of most its profits – oil and gas – during the Capital Markets Day.
In part, that's a response to how the world has changed since Russia invaded Ukraine. Moscow's decision to shut down its gas pipelines to Europe has created a huge new market for liquefied natural gas that the international oil majors are perfectly placed to serve.
Shell's natural gas unit was key to the company's record 2022 profits, and continued its stellar performance in the first quarter of 2023. The world is "desperately in need" of natural gas, Sawan said earlier this year. Internal documents seen by Bloomberg show the company now sees a long-term role in global energy for gas and aims to grow its LNG business in key markets.
Under van Beurden, Shell said its oil production peaked in 2019 and would drop by 1% to 2% annually through 2030, for an overall reduction of as much as 20%. In fact, Shell's oil production has fallen even faster, achieving the 20% decline ahead of schedule due to divestments such as the $9.5 billion sale of U.S. Permian Basin assets to ConocoPhillips.
Sawan has already hinted that he's not in favor of continuing to shrink Shell's oil and gas business, saying earlier this year that cutting production right now "is not healthy" for consumers or the world economy.
Ruthlessness
Whether it's oil and gas or renewable power, Sawan has said he will take a "ruthless" approach to how the company spends its money. Projects that don't pass muster won't go ahead.
Investors will be keen to know how that approach will affect Shell's annual capital expenditure, which is forecast to be in a range of $23 billion to $27 billion this year. They will also be watching for any signs of a pullback in investment on clean electricity after the company spent a record $3.5 billion on its renewables and energy solutions unit last year.
Shell once aimed to become the world's biggest electricity company, but executives told employees of the renewable power unit recently that they needed to make profits, not just CO2 cuts. Sawan has said repeatedly that the company's current "Powering Progress" strategy of boosting returns while cutting emissions is the right one, but its execution will likely be different under his leadership.
Recommended for you

What's happening with the oil and gas skills passport?