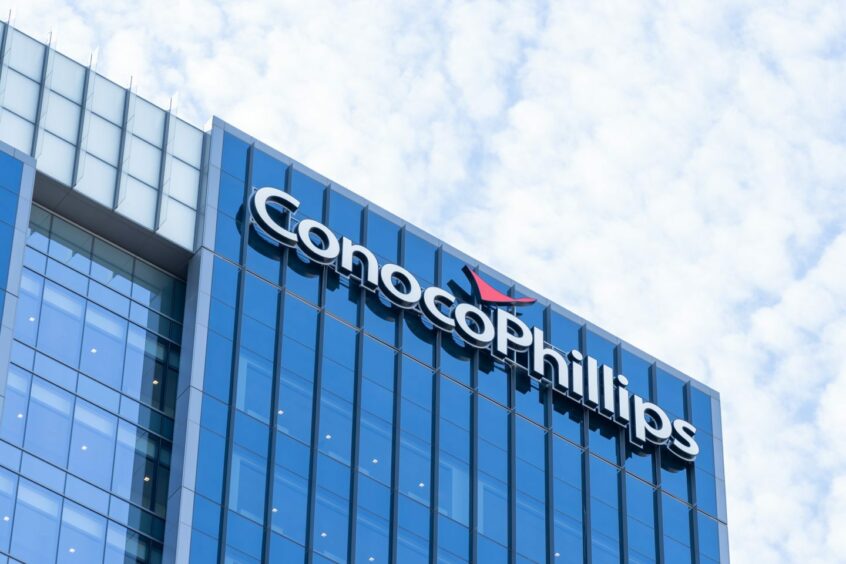 ConocoPhillips (NYSE: COP) has been put on divestment watch by some of Europe's biggest pension funds, after using proceeds from a recent debt financing to expand its business in oil sands.
The Houston-based oil company obtained full control of the Surmont field in Alberta, Canada, this year, paid for with funds from three US dollar bond sales worth $2.7 billion.
Aegon NV of the Netherlands, which oversees more than $300 billion, says ConocoPhillips might now be in breach of its tar sands policy and may be added to its exclusion list later this year. KLP, Norway's biggest pension fund with about $90 billion in assets, says it's also monitoring the oil producer after the Surmont deal.
The acquisition will likely push Conoco's revenue from oil sands, which can emit three times more greenhouse gases than conventional crude oil, to roughly 6.9% of next year's total, up from 3.6% in 2021, according to an analysis by the Anthropocene Fixed Income Institute. That's a red line for some investors, with ESG funds in particular setting a 5% limit on the revenue that can come from oil sands.
KLP has "a clear position against investments in oil sands," which its fund managers "enforce" when revenue exceeds the 5% figure, Arild Skedsmo, a senior analyst for responsible investments at KLP, told Bloomberg. If Conoco "crosses the threshold, they will be excluded from our portfolio," he said. And in light of the latest developments, "this is a company that we will follow closely."
Aegon's assessment is that the Surmont deal means Conoco "could be added to our exclusion list," Veronique Lefel, a spokeswoman for Aegon, said by email. Aegon wasn't immediately able to provide an estimate of its holdings in the oil company.
A Conoco spokesperson declined to comment.
KLP, which holds about $35 million worth of Conoco shares, voted against the company's board at this year's annual general meeting. Skedsmo said KLP is concerned that Conoco doesn't have "credible" policies mapping out how it will transition away from fossil fuels. And building out investments in oil sands is "unlikely to improve their position," he said.
It's an opening salvo in what's likely to be a wave of funds with green mandates that are now looking to exit Conoco, according to the Anthroprocene Fixed Income Institute, which monitors debt markets for environmental, social and governance controversies. In all, there are close to 600 ESG funds with investments in Conoco, data compiled by Bloomberg show.
The irony is that some of those same ESG investors helped finance Conoco's Surmont acquisition, the AFII said. They include BlackRock Inc., which is among providers of ESG-labeled exchange-traded funds that apply the 5% oil-sands exclusion threshold in accordance with MSCI Inc. methodology.
"The completion of this acquisition will likely take ConocoPhillips in-scope of exclusion, but the fallacy of passive index construction means that ESG ETFs are compelled to buy the bond in the interim," said AFII researchers including Josephine Richardson, the group's head of portfolio strategy. It's a "paradox of investors funding deals which produce companies which are uninvestible."
A BlackRock spokesperson declined to comment.
It's not yet clear how Conoco's planned expansion of its oil-sands business will affect its ESG scores. The company is rated AA by MSCI ESG Research, according to data compiled by Bloomberg.
MSCI said in a statement that it "can't comment on potential future changes in company assessments. We won't be in a position to confirm whether the 5% threshold for revenue from oil sands, as set out in the MSCI ESG Screened Indexes methodology, has been breached until the relevant information becomes public in due course."
Oil-sands production at the Surmont field relies on steam being injected into underground wells to force the region's heavy bitumen to the surface. It's the fourth-largest such site in Canada.
Information on bondholders is hard to trace due to delays in fund disclosures. Richardson says the situation presents an opportunity for active sustainable investors to beat rigid passive strategies.
"Any exclusion criteria is inherently a passive investment strategy," Richardson said. Active managers "can choose to anticipate and incorporate these factors earlier in the investment process," she said.
Recommended for you

Chris Cox and Curium Resources going after North Sea's untapped discoveries