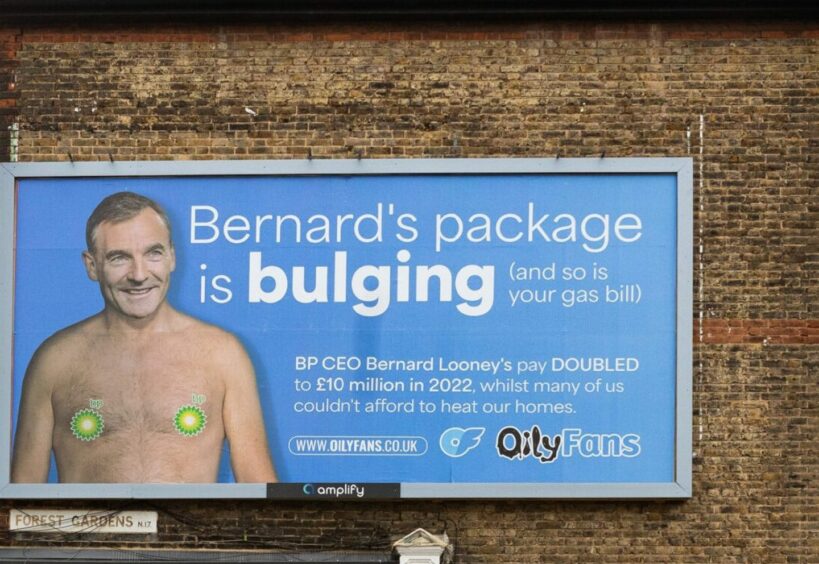 A London ad agency is pitching a multi-thousand-pound "OilyFans" social media hit campaign against the fossil fuels industry.
In a "shopping list" to NGO Global Witness, Don't Panic London pitched a social media sting including deepfakes of oil bosses, a website, a stunt film, posters, and even an awards ceremony; adding up to a potential total of £67,500.
It comes after a Global Witness stunt in London in July, when an "OnlyFans" billboard was replaced by a deepfake billboard of BP boss Bernard Looney.
In the proposals, seen by Energy Voice, Don't Panic said it is the "ideal jumping off point for an attention-grabbing tactical intervention".
EV understands discussions are preliminary, with no decision yet on the campaign going through.
Industry trade body Offshore Energies UK (OEUK) said the campaign would "feel like a cheap dig to the 200,000 people whose jobs are supported by the offshore energy industry," while Aberdeen and Grampian Chamber of Commerce said public opinion "sits full square behind new North Sea licences".
Don't Panic is founded by  film maker Joe Wade, who co-created the BAFTA-winning series "The Revolution Will Be Televised" and recently produced the film "Everything is Not Awesome" for Greenpeace targeting Lego's work with Shell.
The firm also collaborated with street artist Banksy on the "Forgive Us Our Trespassing" poster packs in the UK in 2010.
'Ironic brandalism'
Under the proposals, OilyFans would become an "ironic fan club for the fossil fuel companies and their defenders", described as "a sort of Just Start Oil that demonises progress in the form of wind turbines, Greta, electric cars, the Green New Deal, the IRA etc, etc".
The "ironic brandalism" would see social media posts praising the "amazing work of Shell and BP in continuing to invest huge sums in oil and gas exploration", and retweeting critics of renewables.
Don't Panic said this could expand into a poster campaign, identifying Ineos boss Sir Jim Ratcliffe, saying that "he could be someone worth tarnishing".
The firm said it could create a "hero film" to go viral,  at a cost of £25,000 – £35,000.
"Hydrocarbon events" are the "best location to film these sorts of stings", the agency said in the pitch.
"Another option could be a deepfake approach. Deepfakes get a lot of coverage. We could feature captains of the fossil fuel industry making announcements."
A spokesperson for Global Witness said: "The OilyFans billboards we produced earlier this summer highlighted the gross inequalities of an energy system that has seen oil executives make millions from an energy crisis that impoverished millions of people across the UK.
"We consider all ideas and proposals as we hold oil executives to account and push for a just transition which benefits everyone, including oil and gas workers.''
'A cheap dig' at energy sector 
Don't Panic CEO Joe Wade said: "The exploratory proposal you've seen is the potential next stage of a campaign for Global Witness. We put it together at their request, and therefore it's only been sent to them."
OEUK said: "This campaign will feel like a cheap dig to the 200,000 people whose jobs are supported by the UK offshore energy industry.
"While we respect the right to peaceful protest, we know that the delivery of secure, affordable energy now and in future will be done through practical action, not stunts.
"It's why we continue to work with all parties to support a carefully managed energy system and its people to produce energy which cuts emissions, grows the economy and supports jobs here in the UK."
The move comes days after a Survation poll revealed the majority of people in Scotland are supportive of new North Sea licences being issued.
A spokesperson for Aberdeen and Grampian Chamber of Commerce said: "Public opinion sits full square behind new North Sea licences to deliver energy security and overwhelmingly in support of continuing domestic production over costlier and more carbon-heavy imports of oil and gas from overseas.
"Our energy sector keeps the lights on in our homes and fuel in our cars. It is an industry investing at scale in renewables and is utilising its world-class expertise to drive the transition to a greener future.
"With 200,000 jobs supported and £20 billion added to the UK economy this year alone, it is an industry we should be rightly proud of."
---
'Shopping list' for OilyFans campaign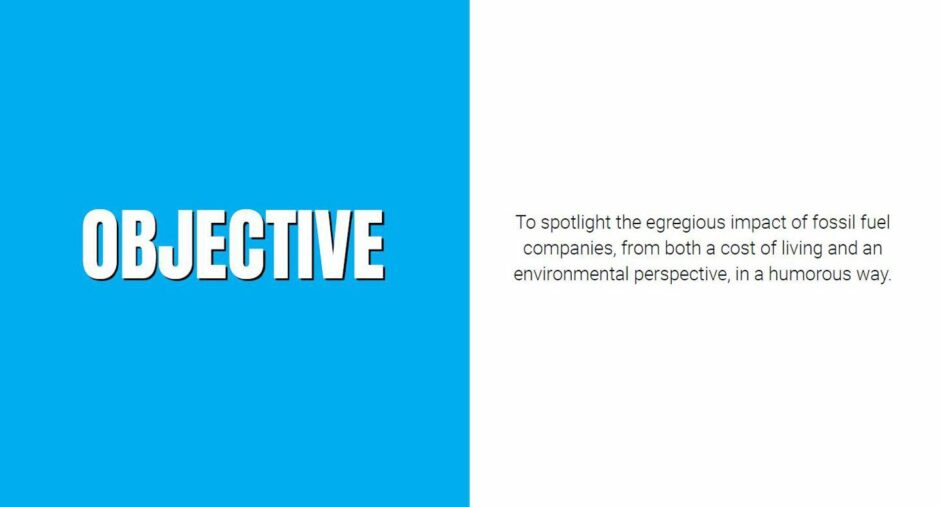 Indicative costs being pitched, and the "shopping list of options" are as follows:
Stunt film 
£25,000 – £35,000
Creative development – £3,000
Microsite
Design – £3,000
Build – £8,000
Copywriting (site and social profiles) – £3,500
Social media
circa £4,000 – £6,000
Content calendar and engagement plans
£4,000
Poster campaign
Creative concept and copywriting – £1,000
Design  – £4,000
Recommended for you

Podcast: Offshore Europe, IRA and OilyFans