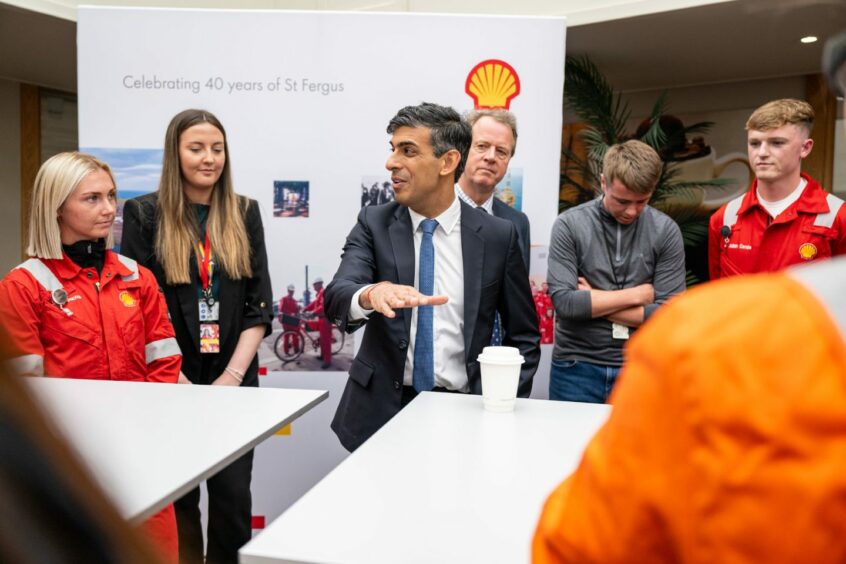 Most people in Scotland back Rishi Sunak's decision to grant new oil and gas licences, according to new research on public attitudes to the future of the energy industry.
The findings of the latest polling will reignite debate about what role fossil fuels should have in powering the country's economy towards more renewable sources.
The snapshot of opinion comes days after official figures revealed Scotland's share of North Sea receipts was £9.4 billion last year, helped in part by a windfall tax.
Last month, Mr Sunak was in Aberdeenshire where he pledged to "max out" oil and gas and backed 100 new licences. He also strongly hinted at support for the controversial Rosebank field off Shetland.
The poll, commissioned by advisory firm True North, is the first test of opinion on the licensing decision.
54% support for new licences
The Survation research, based on more than 1,000 adults, suggests 54% of Scots agree with the prime minister's position, compared with 23% who disagree. The remainder were not sure.
Support was above half in the north-east, along with every other region outside Glasgow and the Lothians.
Ryan Crighton, from Aberdeen & Grampian Chamber of Commerce, said the findings challenge a presumption against new oil and gas.
"If the alternative is importing oil and gas at a greater carbon cost, then we must favour domestic production," he said.
"It's simple, it's pragmatic and it commits us to sourcing the fossil fuels we need in a manner which minimises emissions and secures tens of thousands of Scottish jobs.
SNP Westminster chief Stephen Flynn, MP for Aberdeen South, previously warned the UK Government's approach will not attract firms to invest in renewables.
"I don't think the UK Government's in the right place on this," he said. "But similarly I would certainly be against those who advocate for an immediate shutdown in the North Sea."
He claimed Mr Sunak was acting like Donald Trump.
'Economic force for good'
True North partner Fergus Mutch, a former SNP candidate, said: "Overall, the Scottish public considers the energy sector an economic force for good. They want North Sea reserves used while we still need oil and gas as part of the mix as we transition to greener sources of energy."
He added: "The recent announcement of new oil and gas licences gives industry greater clarity and grounds for confidence — and our poll puts public opinion in Scotland squarely behind such an approach."
Further polling by the firm suggests more than half of respondents did not think the windfall tax on oil had done much to reduce household bills.
More than half also did not believe it had proved a big incentive for firms to move to renewables.
Protest
The role of oil and gas has become a serious flashpoint for campaign groups and competing political and business interests.
Protests have targeted the Scottish Parliament and major public events, including an international cycling event this summer.
Demonstrators from Greenpeace targeted Mr Sunak's Yorkshire mansion, covering it in black fabric this month.
The Scottish Government – marking two years of a coalition with the Greens today – promises a "just transition" for workers but some in the industry still wonder what that will look like in practice.
Meanwhile, Labour leader Sir Keir Starmer is under pressure over his stance on fossil fuels. He is supposed to be setting out his views in a long-promised visit to Aberdeen "this summer".
Recommended for you

What's happening with the oil and gas skills passport?