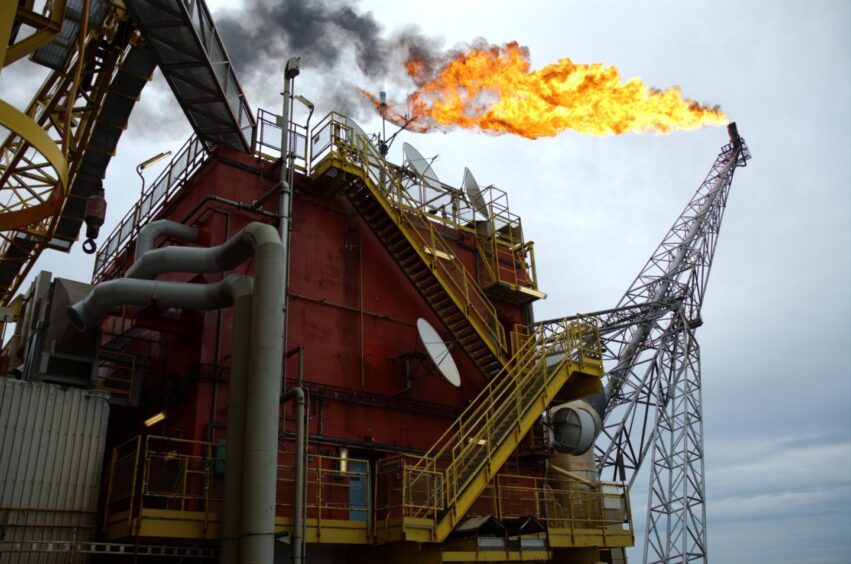 As the country recovers from Storm Babet and more adverse weather conditions are set to hit the UK as it goes into winter, the NZTC's Lewis Harper asks if increased flaring offshore can reduce emissions.
Mr Harper, project manager for NZTC, has said that under specific circumstances, North Sea assets could reduce their overall impact on the planet by increasing flaring rate.
It's worth noting that Mr Harper said that he does not advocate for flaring for the sake of it and the ultimate goal is to cut out the practice entirely.
The Net Zero Technology Centre (NZTC), alongside Accord, has been conducting a study into the combustion efficiency of flares on UK installations.
Aberdeen's Accord is a fully independent hydrocarbon accounting consultancy that has developed a tool that allows operators to monitor the flaring efficiency of individual assets in real-time.
Flaring efficiency is a difficult thing to quantify with a number of variables playing a part, however, one condition that cannot be controlled by a platform is the local prevailing windspeed.
This is where Acord's software comes in and through this, the NZTC has been able to track emissions from individual platforms in UK waters in a range of scenarios, including storms, something that can impact flaring efficiency.
Mr Harper, project manager for NZTC, explained: "If you receive your wind speed, exit velocity and lower heating value of your flare gas every minute, we can give you combustion efficiency every minute."
Lewis Harper said that things like exit velocity and the lower heating value of the flare gas can be controlled by an operator but windspeed cannot and it has "a colossal effect on our combustion efficiency."
At times of high windspeed, less methane is burned and turned into CO2 by the flare.
This creates an issue as Methane has a significantly higher impact on the planet than carbon dioxide does.
The impact of high windspeed on flaring efficiency
Pointing at one platform in particular, Lewis Harper showed that during normal weather conditions, 2.5 tonnes of gas was flared and 0.03 tonnes of that was methane.
He said: "Combine that with CO2 and then you get your CO2 equivalent value of 5.5 tonnes."
However, when Storm Agnes hit that same installation, the numbers painted a very different picture.
The storm brought yellow weather warnings for high wind speeds to many regions of the UK earlier this year.
The NZTC project manager said that the installation only flared 0.4 tonnes of gas upon inspection at a time of high wind speed.
Mr Harper explained: "Because of the prevailing wind speed, combustion efficiencies dropped as low as 80%, releasing almost the same amount of methane and that's 0.4 tonnes of flare gas versus 2.5 tonnes of flare gas. It's a massive difference.
"You'd expect that to be half or even less just with basic math, but it's not, it's nowhere near."
Winds gusted up to 60 miles per hour during the storm, said Mr Harper.
Can more flaring help slash environmental impact?
If wind speeds have such a detrimental effect on emissions, what can operators do to counteract this?
Mr Harper said: "In this case, when the winds are slightly stronger, maybe you need to increase your flow rate."
He added: "If you're increasing your flow rate and you're flaring more, you might be increasing the efficiency of your flare and then turn reducing methane.
"Now, if we're putting out more CO2 in comparison to methane, I'd much rather be in that situation because of the detrimental effects methane has on the environment in comparison to CO2."
The data collected suggest that in times of high wind speeds, such as during stormy conditions, maintaining high flaring combustion efficiencies has the potential to cut an installation's CO2e.
"There's a real challenge around me openly saying increasing your flow rate because the whole objective of this is to decarbonise," he said.
Mr Harper contextualised that normally "most operators are working actually around that 98% combustion efficiencies, if not higher."
"However, up until now, operators have not had the ability to dynamically report their flaring efficiencies which makes the impact of Accord's solution so significant".
'Methane is very crucial in terms of impacts on climate change'
Mr Harper explained why quantifying combustion efficiency is important, saying "Right now as an industry we focus a lot on CO2" but methane needs to be brought into the spotlight.
He said it is important "we recognise that methane is very crucial in terms of impacts on climate change and the detrimental effects that our industry has in terms of emitting methane."
Currently, firms are taxed on the amount of CO2 they produce, however, currently "methane isn't included in any taxation scheme," explained the project manager adding: "It's highly likely that it's going to be included within the next two years, three years, maybe even a year."
Mr Harper said that this was "speculation" from him and that he is "not sure" if the governing bodies of the ETS scheme "even know yet when they plan to bring it in."
Methane was part of the last consultation relating to the emissions trading scheme and because of this, Mr Harper believes that it "gives you a pretty clear sense that this is going to come in."
Why focus on methane?
This begs the question, why the focus on methane? The NZTC's Mr Harper explained: "If we compare methane to CO2, the environmental impact is 84 times greater over a 20 year life cycle."
Earlier this year, Offshore Energies UK (OEUK) reported that North Sea emissions had been cut by 24% when compared to 2018 levels.
The trade body also indicated that the low-hanging fruit in the sector had been picked and now operators will have to dig deep to continue slashing environmental impact.
Mr Harper offers a different perspective: "Methane is one of the best ways in which we can cut our emissions quickly, because of its detrimental effects."
The need for 'representative' methane figures
Flares operate by burning gas produced on an asset, doing this, converts the gas into CO2.
Currently, flares on assets in UK waters must operate and an efficiency of 98%, something that is generally achieved, until adverse weather conditions arise.
This figure, however, seems arbitrary to Mr Harper, as he explained: "As an industry, we are responsible for creating some of the largest towed objects in the world, moving some of the largest structures, we're responsible for putting people on the seabed at 300 metres deep.
"And yet, we use an assumed figure that has very little backing as to why and where it comes from."
He said that there is a "real need and drive" for the sector to use "realistic, representative figures" of how installations are operating.
Recommended for you

Methanol has 'large potential' to slash UK oil and gas emissions