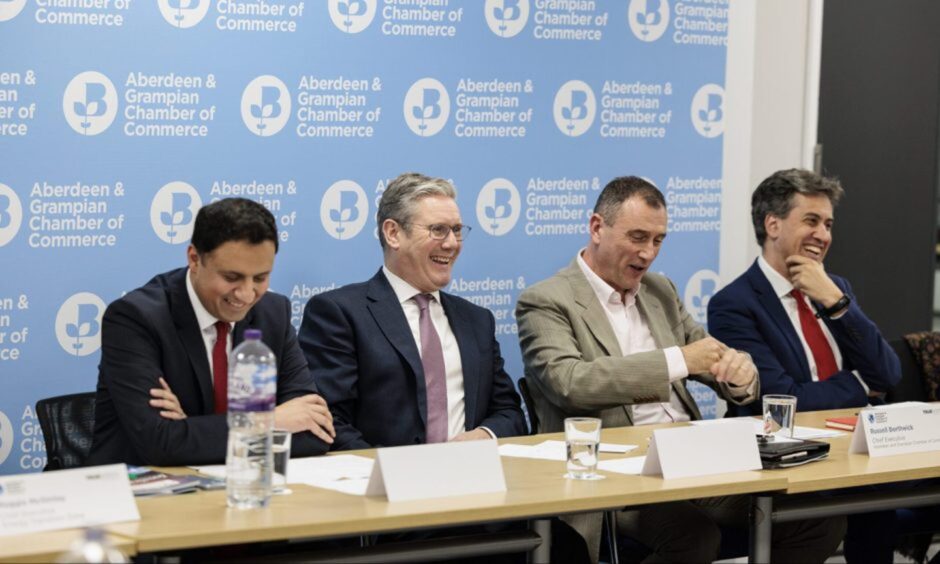 Labour Party leader Keir Starmer has visited the north-east of Scotland where he has heard the "frank and honest" views of the region's energy industry, however, this trip has created a "positive step" for the politician's relationship with the sector.
During his trip to Aberdeen Sir Kier Starmer has laid out plans to "harness the expertise and experience that exists today across Aberdeen and the North Sea" if his party is to form the UK's next government.
Labour will look to "unlock" private sector investment in energy to ensure the energy transition while committing to oil and gas for "decades to come."
This has been received positively by industry, trade body Offshore Energies UK's (OEUK) chief executive David Whitehouse explains.
Mr Whitehouse said: "There is much we agree on with the Labour Party and this visit is a positive step forward for our working relationship. The best way to cut bills, get to net zero, grow the economy and retain jobs is with our own homegrown offshore energy industry. "
Earlier this year, Sir Keir received criticism from the energy sector as he set out plans to ban new oil and gas licences if Labour wins the next general election, which is set for next year.
With the Labour leader's softening of oil and gas policy, he is unlocking the investment from the private sector he is looking to "harness", the OEUK boss outlined.
"Our members are delivering a homegrown energy transition to net zero with the potential to spend almost £200 billion in private capital over the decade," said Mr Whitehouse.
"This could be spent across our energy mix, from oil and gas to offshore wind, carbon capture and storage and hydrogen if we have the right investment environment.
"By the mid-2030s, oil and gas will still provide 50% of our energy needs in the UK. The reality of the transition is that the UK needs both homegrown oil and gas and renewables to cut bills and power homes, businesses and industries."
'Refreshing' approach
Energy transition industry skills training provider X-Academy, part of Xodus Group, also welcomed Sir Keir's comments during his visit to Aberdeen.
X-Academy managing director Peter Tipler said the UK had the potential become a "clean energy superpower", but the country needed to harness that potential as a "matter of urgency".
"Scotland has the potential to become a world leader in low carbon and renewable energy – ensuring our energy security, powering a new net zero economy and creating a green jobs revolution," Mr Tipler said.
"However, to realise this opportunity, we must act together now and accelerate the jobs transition."
Mr Tipler welcomed the proposed jobs bonus policy for "key North Sea industries" and the 50,000 jobs Labour estimated it would create in Scotland.
"By rewarding clean energy developers that are actively investing in jobs and supply chains in energy and industrial communities, it is also estimated to attract tens of billions of pounds of investment from the private sector," he said.
"This approach is not only refreshing, but vital in unlocking the energy transition workforce that will power Britain's future.
"We must take strategic, targeted action that will create jobs, ensuring there is a pathway into work."
Mr Tipler said public investment must be accelerated to better attract and develop the skills of people not already working in the energy industry or who "may need to move from one sector to another".
"We want to work with industry and government to not only to deliver training, but to create visibility and accessibility of jobs, and ensure there is sufficient, experienced capacity to deliver the transition," he said.
Aberdeen visit 'too little too late'
However, for Scottish Conservative shadow secretary for net zero, energy and transport and north-east MSP Douglas Lumsden, this trip to Aberdeen and Keir Starmer's commitments to the energy sector is "too little too late."
Jobs are at the heart of what the Labour Leader is speaking about while he visits the north-east, however, to Mr Lumsden the policies presented will throw energy workers "under a bus."
Mr Lumsden said: "Keir Starmer's pitiful attempt at finally showing face in the north-east is too little too late.
"His energy plan lacks any credibility and is a feeble attempt to pull the wool over the eyes of workers whose jobs he wants to throw under a bus.
"It's no surprise industry leaders like Sir Ian Wood have condemned Labour's proposals which are economically and environmentally illiterate.
"Not only would their plans threaten tens of thousands of jobs, they would undermine our energy security, leaving us at the mercy of barbaric regimes like Putin's Russia for more expensive imports carrying a greater carbon footprint."
The north-east MSP says that the region he represents is "at the very bottom of Keir Starmer's priority list," condemning the visit as a "tick-box exercise."
Stephen Flynn, SNP Westminster leader and MP for Aberdeen South, said: "It's taken more than 3 years but Sir Keir Starmer has finally travelled North in order to assess Aberdeen's riches – our energy, our workforce and our potential."
The SNP leader argued that Scotland's energy future should be in the hands of Scotland, rather than determined by Westminster.
Flynn added: "The big question he has repeatedly failed to answer is why we should continue to trust Westminster with Scotland's energy wealth when we all know they've squandered it in comparison to the likes of our Norwegian neighbours.
"Make no mistake, the Scottish people should have their fair share and benefit from these revenues both in terms of cheaper bills, but also jobs and investment.
"The fact is Scotland's energy should be in Scotland's hands. We know Scotland has the energy, we just need the power."
However, both the SNP and Labour's outlook for the UK's energy sector has come under fire from Douglas Lumsden, who added: "While Labour and the SNP want to end the oil and gas industry as soon as possible, the Scottish Conservatives are the only party standing up for the future of the sector and the jobs it supports while delivering a successful energy transition."
Recommended for you

Unite plans 'hard-hitting' campaign to canvass energy workers